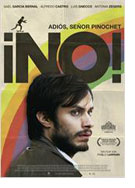 Opening 7 Mar 2013
Directed by: Pablo Larraín
Writing credits: Pedro Peirano, Antonio Skármeta
Principal actors: Gael García Bernal, Alfredo Castro, Antonia Zegers, Luis Gnecco, Marcial Tagle
We are all familiar with Obama's "YES, we can", but in 1988 the slogan "NO" was used with great effect in a political campaign to oust the Chilean dictator Augusto Pinochet. Due to international pressure he saw himself forced to call a referendum for or against continuation of another eight years of his presidency.
The revolutionary advertising hot-shot Rene Saavedra (Gael Garcia Bernal), just returning from exile, is hired to create a TV sequence for which he is only given eight minutes broadcasting time. He and his team have a daring and audacious plan. Director Pablo Larrain leads the viewer through the ups and downs of finding a suitable concept. He shows the brash and self-confident Saavedra skateboarding to his office, dodging not only the traffic but also the henchmen of the ruling party. His conservative boss Luis Guzman (Alfredo Castro) gives him a hard time and needs to be convinced to produce the new commercials showing smiling, happy people, dancing school girls, catchy jingles and a rainbow logo. The "No" campaign is designed with a cheerful, funny and positive approach.
Pablo Larrain uses a distinct visual style (camera: Sergio Armstrong) which is a bit disturbing during the first few minutes. It gives the feeling of watching a bad quality copy, but this is done on purpose and soon enough you get drawn into the story with its tempo and emotions. This style fits the ugly and blurry time when thousands of dissidents had left the country and an estimated 3,100 people were killed by police under Pinochet's rule. It also helps to diffuse the difference between film clips used from the real "No campaign" which is interwoven throughout. The movie is based on a true story and shows how the dictatorship was defeated through peaceful means and positive ideas. It also shows the influence of the media and how much a purposeful advertisement campaign can add to it. This campaign worked in real life too when 55 percent voted for "No" and the dictator was ousted. But he remained president until free elections were held the following year, paving the way to democracy in Chile.
It was a surprise success in Cannes receiving the Art Cinema Award in the section La Quinzaine des Réalisateurs. This was Chile's Oscar nomination for Best Foreign Film 2013. (Birgit Schrumpf)