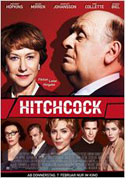 Opening 14 Mar 2013
Directed by: Sacha Gervasi
Writing credits: John J. McLaughlin, Stephen Rebello
Principal actors: Anthony Hopkins, Helen Mirren, Scarlett Johansson, Danny Huston, Toni Collette
Alfred Hitchcock is considered one of the most influential film directors of all time. In the film Hitchcock, we are transported to 1959 during the filming of Psycho, which would become the most successful movie of his career. As Hitchcock (Anthony Hopkins) deals with the stress of funding and filming Psycho, his wife Alma Reville (Helen Mirren) feels unloved and starts to spend time with another man.
To put it nicely, Hitchcock is a disappointment. With such a strong cast, an interesting topic, and strong screenwriter, it should have been an excellent film. However, it fails by not focusing on the making of Psycho, but rather the difficult relationship between Hitchcock and his wife Alma. The moments when Hitchcock was most successful were when it revolved around the director's infamous relationship with his leading ladies, the hiring process of the cast of Psycho, and the other glimpses of the filming of the movie. When it transitioned to Alma's love affair with the decidedly sleazy Whitfield Cook (Danny Huston), the pace of the film slows down to a near halt.
Anthony Hopkins does a reasonably good job acting the role of Hitchcock, and he managed to take on the correct pacing of his voice and irregular humor quite well. However, there are a few close-ups to his face where, I assume, he was supposed to convey deep emotion, but I saw nothing. Helen Mirren does her best with an uncompromising role, but she was not very inspiring, and she did not make me feel for Alma's situation at all. Hitchcock frustrated me with his unthinking possessiveness and jealousy, Alma frustrated me by being unsympathetic, and the film as a whole frustrated me by not conveying an ounce of true feeling.
While the tiny glimpses of the filming of Psycho make this film interesting enough to give it a watch, there is little else to recommend it. Indeed, I am not certain what the viewer is supposed to take from this foray into Hitchcock's directing career. Maybe that he was crazy enough to hallucinate about serial murders? Maybe that he was a creepy old man who lusted after beautiful women and took advantage of his position of power over them? Or maybe just that he was a man who treated his wife poorly, but seemingly makes up for it by posing for photos with her by his side. Regardless, it will do little to realistically enlighten the viewer of Hitchcock or his wife, so the point of the film is lost on me. (Rose Finlay)