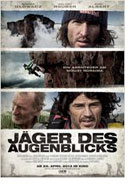 Jäger des Augenblicks - Ein Abenteuer am Mount Roraima
Austria 2013
Opening 25 Apr 2013
Directed by: Christian Lonk
Writing credits: Christian Lonk, Philipp Manderla, Malte Roeper

There's not much difference between a freestyle extreme climber and a spider. Both hang on some wall, perpendicular to the ground. Literally, the title of this documentary translates to "Hunter of the Moment." Here, three climbers, well-known for their exploits on walls in Europe as well as on cliffs and overhangs around the world, attempt to climb a precipitous, flat-topped mountain in south-eastern Venezuela near the border of Brazil and Guyana, to be exact: a 600-meter overhanging wall on the north side of Roraima Mountain. They are Stefan Glowacz, his older colleague Kurt Albert, both from Germany, and Holger Heuber from Switzerland.
They push their way through the jungle in dug-out canoes and then on foot with a group of natives who help carry the equipment. Soon the natives wonder how they got involved with these mad men and decide to turn back. The three climbers carry on alone to the mountain site. They slowly start climbing, hunting each moment for a place to set a foot or drive a hook into the stone. Halfway up, they suffer injuries, face torrents of rain and a rushing waterfall, run out of supplies, and decide to give up. I suppose that some helicopter plucks them from the side of the mountain. Back in their respective homes, they plan anew. A tragedy is the death of their partner, Kurt Albert, who falls from a relatively small wall in Switzerland and dies at age 56. Glowacz and Heuber decide to honor him and reattempt Mount Roraima.
Interestingly, they land by helicopter on top of the mountain and climb down to the exact spot where they had previously given up. From there, they inch upwards for the next two weeks until they have reached the top again. This is a huge accomplishment. Equally amazing are the photographers, Franz Hinterbrandner and Jolja Brandt, who have brilliant shots of Glowacz and Heuber, spider-like, on the mountain. Where were these photographers the whole time: in a hot-air balloon or hanging from a plane? There is no evidence of wind or shadows which might serve as clues.
How does this documentary compare with two excellent docudramas about climbers: 127 Hours and Touching the Void? These two are, of course, more dramatic in that one climber had to saw off his arm in order to free himself, and one crawled all alone for miles after breaking a leg. Where were the helicopters for them? On the other hand, Jäger des Augenblicks opens the world of climbing to novices, who are encouraged to learn more about "by fair means," "redpoint," "big walls," and "free climbing," as well as more about another climber Reinhold Messner, or even Stefan Glowacz as a younger man, e.g., in the film Schrei aus Stein by Werner Herzog. The film definitely will tickle your interest to know more and might encourage you to become as physically fit as Glowacz is. Sometimes the German dialect is a bit tricky for us in northern Germany, but the visuals are more important than the words. (Becky Tan)