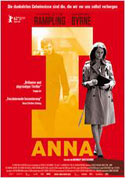 Opening 2 May 2013
Directed by: Barnaby Southcombe
Writing credits: Elsa Lewin, Barnaby Southcombe
Principal actors: Charlotte Rampling, Gabriel Byrne, Hayley Atwell, Eddie Marsan, Jodhi May
Who is Anna? The formidable Charlotte Rampling plays the enigmatic and complex character of Anna. Irish actor Gabriel Byrne is inspector Bernie Reid who can't get this mysterious beauty off his mind. He too wants to know who she is, after they met briefly in London's Barbican Centre, where a man was found murdered in his 19th floor apartment during the early morning hours.
Since her divorce, Anna shares a one-bedroom place with her daughter Emmy (Hayley Atwell) and little Chiara. Emmy is the more pragmatic of the two, urging her mother to get over her loneliness by going out and having fun. But what kind of fun can you have with speed-dating? Still, Anna gives it a try. Here she meets Bernie who had followed her. Both are loners and in a shy way attracted to each other, sensing a congeniality of souls. But he has a murder case to solve, forcing himself to focus. Has George Stone (Ralph Brown) been murdered by his son who fled the city together with his mother Janet (Jodhi May)? Has Anna anything to do with it; why was she in the building during that morning? Some facts are so disturbing that he hides them from his team. We, too, don't want to believe what might be the truth. The film's flashbacks add to the tension.
The strong visual style is effectively underlined with music by K-i-d (Keep It Dark), and songs by British guitarist Richard Hawley. Cameraman Ben Smithard keeps his photography simple, with meticulous attention to detail. The use of natural lighting (London's winter) plus a colour scheme of mainly greys and browns lets you feel the isolation and loneliness of the protagonists. Anna's quaint retro-look apartment is in contrast to the stark concrete architecture where the murder took place, emphasizing her distance to the outer world.
I, Anna is not a true action film. Barnaby Southcombe wanted to reflect a Film Noir in the French/European tradition. This is a dramatic physiological thriller, showing the struggles and personal weaknesses of the protagonists. The theme of "detective falls in love with suspect" is not a new one but there is still another unexpected psychological dimension to the story. Bernie painfully realises that Anna's dark secret has come between them. Is love still possible?
Barnaby Southcombe is well-known for his successful British TV series (Bad Girls; Harley Street). In this first full-length film he is supported by a stellar cast. If you are a fan of Charlotte Rampling, and/or if you like Film Noir, this is a "must see". At the Berlinale 2012 she introduced the film together with the director, her son. It is their first film cooperation. (Birgit Schrumpf)