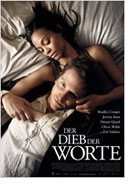 Dieb der Worte (The Words)
U.S.A. 2012
Opening 23 May 2013
Directed by: Brian Klugman
Writing credits: Brian Klugman, Lee Sternthal
Principal actors: Dennis Quaid, Bradley Cooper, John Hannah, Jeremy Irons, Zoe Saldana
Young writer Rory Jansen (Bradley Cooper) finds a manuscript hidden in an old briefcase and passes it off as his own, instantly receiving the recognition he had always yearned for but never received for his own writings. Soon enough, the true author (Jeremy Irons, not credible as The Old Man) tracks him down and confronts him with the immorality of his doing. He had paid with 'blood and tears' for the inspiration to this script and proves it to Jansen by telling him the tragic events of his life as they unfolded in Paris right after WWII. His wife had lost the script on a train at a Paris station, and he never had the chance of being acknowledged for it. As it turns out, the above stories are subject of yet another book, written by accomplished writer Clay Hammond (Dennis Quaid). Whether this work has to be considered fictitious or autobiographical, remains to be seen.
The questions this film asks about 'the right to intellectual properties', 'plagiarism', and 'fame' – to name a few – are timely and worth pondering, and Bradley Cooper gives a convincing performance as a young writer in turmoil. But is it intentional or ironical that The Words itself seems to borrow from recent films and books – Lila Lila directed by Alain Gsponer or Ruhm by Daniel Kehlmann for example – and from the true story of Hemmingway's wife losing his manuscript on a Paris train?? Should we also assume the short flashback-vignettes of The Old Man's life are intentionally of questionable quality, to reflect poorly on the writing abilities of Hammond?? The film unfortunately never really 'comes together' and isn't able to answer these questions satisfactorily. (Carola A)


Second Opinion

This drama/thriller explores the effects of literary obsession on the personality and ethics of three writers in two stories within a story. The film opens with the famous writer Clay Hammond (Dennis Quaid) presenting and reading from his new book "The Words". The story centers on Rory Jansen (Bradley Cooper), who wants to be a professional and great writer. Rory does not have much success until he discovers an old manuscript which he publishes as his own. Being now the writer of a generation and widely famous, he is approached by "The Old Man" (Jeremy Irons), who claims to be the original writer of the manuscript. It turns out, that the manuscript is an autobiographical account of the Old Man's years in Paris as a young man (now Ben Barnes) with his wife Celia (Nora Arnezeder) shortly after World War II. The story concludes with the young aspiring writer Daniella (Olivia Wilde) not only wanting to know what became of Rory, but also where Hammond's inspiration for him comes from.
"Did you ever stop to think what this would do to us?" asks Rory's wife Dora (Zoe Saldana) when she learns about the plagiarism. And the answer would be "no" for all three characters in the stories because they are all obsessed with literary fame. And so the characters learn that "the hard part is living with the choices you make", as the Old Man nicely puts it.
This film had quite an interesting subject. However, I wasn't totally captivated by the plot. Also, Bradley Cooper and Ben Barnes didn't totally convince me playing their part. Besides, there might be a real life connection that adds another twist to the story: The German movie Lila Lila from 2009, an adaptation of the novel by Martin Suter, tells the story of an unsuccessful writer who comes to fame publishing an old manuscript he found. (Katia Trost)