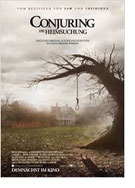 Conjuring - Die Heimsuchung (The Conjuring)
U.S.A. 2013
Opening 1 Aug 2013
Directed by: James Wan
Writing credits: Chad Hayes, Carey Hayes
Principal actors: Vera Farmiga, Patrick Wilson, Lili Taylor, Ron Livingston, Shanley Caswell
When the Perron family moves into a beautiful house in the New England countryside, everything seems to be going their way. However, soon the mother gets mysterious bruises, the youngest daughter makes a new invisible friend and strange events occur around the house. After a particularly haunting night, they contact paranormal investigators Ed and Lorraine Warren to try and get to the bottom of their problems. The Warrens soon discover that the house and grounds are haunted by a demonic presence that has latched onto the Perron family and follows them wherever they go. They must use everything in their arsenal to beat the spirits before the Perron family becomes the next victims of the evil in the house.
The Conjuring is a pretty typical offering of paranormal/exorcism fare. Like many of its predecessors, the setting is in an old house in the 1970s. The 1970s seems to have been a hay-day for paranormal activity what with the stories for the films The Exorcist (1973), The Amityville Horror (1979), The Entity (1982), and The Exorcism of Emily Rose (2005), among many others, all originating in that decade. The Conjuring fits right in with the tacky fashion and the outdated technology of the period. This old-timey setting in a way helps to make the film seem more real — there are no night-vision cameras or CCTV a la Ghost Hunters (2004) here.
The film itself also feels like a throwback to older classic supernatural horror films, with the majority of the build-up coming from invisible spirits in the night. It isn't until the middle of the film that the filmmakers up the ante and begin to use the computer graphics that are now available to help make ghosts more terrifying. The Conjuring, like all great horror movies, is terrifying just from the mere prospect of something hiding out of sight. Many scenes involve characters cowering in darkened rooms seeing nothing particularly frightening, but feeling that something is off, or hearing a giggle or a creak in the floorboards. The anticipation is what makes it fear-provoking; knowing that any moment something scary is going to pop out with a loud blast of music. A particularly effective anticipatory scare tactic is demonstrated with the use of an antique music box. The characters wind it up looking in the mirror of the box and when the music stops, there is a ghost behind them. Simply terrifying.
While the general storyline feels a bit overused, and the ending is anticlimactic, there are enough scares in this movie for it to really pack a punch. Like all exorcism movies, there is also a lot of casual emphasis placed on the spiritual power of the Catholic Church. In The Conjuring this feels particularly forced (in one scene, the Warrens tell the non-religious Perrons that they should start going to church), and the negative stereotyping of people who practice witchcraft continues. However, this pandering is to be expected as it is part of the exorcism theme, and it doesn't do too much to detract from the overall movie. As a horror flick, this one will probably not be going down as one of the best, but it is enjoyable (and scary!) enough to be worth a watch. (Rose Finlay)