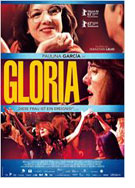 Opening 8 Aug 2013
Directed by: Sebastián Lelio
Writing credits: Sebastián Lelio, Gonzalo Maza
Principal actors: Paulina García, Sergio Hernández, Diego Fontecilla, Fabiola Zamora, Coca Guazzini
For many years I have attended the Berlinale film festival and I can honestly say that most of the films usually contain dark social, political, religious and economical themes. The films usually have an underlining quality that pushes the audience into unknown territory where we have to think and try to understand situations which are quite different to our own way of life but at the same time has a universal message to which we all can relate. The film Gloria speaks of a quiet social revolution in Chile and it was the first movie I have attended where the entire audience left laughing.
Chilean director Sebastián Leilo enthusiastically looks at this changing social scene in his country where older, single people, particularly women, are now taking the opportunity to enjoy life even after divorce or a death rather than remain hidden behind closed doors like in the past. He said a lot has to do with the increase of life expectancy which has put pressure on society to change with the times. He was inspired by his mother to look at her generation. Leilo began by checking out the single night clubs for older people which revealed a whole new world to him. It surprised him and he was even a little shocked by it since he hadn't realized that this generation was expressing a certain sexual freedom that was definitely taboo in the past.
Gloria (Paulina Garcia), now 58 years of age and long since divorced, blooms in the environment of dance and social interaction and makes it a habit to attend the local single club. On evening she meets Rudolfo (Sergio Hernandez) who recognizes her passion for life; she feels she has finally met the man of her dreams and takes him to bed. The relationship develops quickly as they dive into the vast landscapes of each other's histories. She takes him to meet her family which includes her ex-husband, his new wife and her children, since she is completely comfortable with him. But, during the course of the evening, the man simply vanishes without saying a word. It is then that she realizes there must be something else interfering in their relationship, and it only takes a couple of more meetings with him to open her eyes to the situation.
Leilo explained he wanted to show us a man who represents his generation, a generation that didn't have the experience of dealing with an emotional life and, although the new boyfriend is trying to be mature, he is still acting like a child hiding behind secrets.
Paulina Garcia is truly the Meryl Streep of Latin America. She has the ability to give the character Gloria a depth of emotions without saying one word. The film creates a balancing act between laughter and tears. The director focuses on the relationship between parents and their children showing how the focus is changing. In the past, the parents stay focused on their children and forget their own lives. He wants to give the rights back to that certain generation. Garcia said at the press conference that, "we don't talk about loss; it is more a question of finding out about happiness … to make one's own journey into looking at life in a new way." The Gloria character needs the right vision to see a gradual revelation and a clear decision in this struggle which will bring her satisfaction and happiness. This is a wonderful film with a very rewarding message. It is a must-see for every woman and man between the years of 35 and 80; then they should go home and reflect how their own lives could be changed to achieve such happiness. After all, life is short and it shouldn't be wasted. (Shelly Schoeneshoefer)