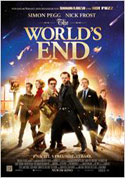 The World's End
U.K. 2013
Opening 12 Sep 2013
Directed by: Edgar Wright
Writing credits: Simon Pegg, Edgar Wright
Principal actors: Simon Pegg, Nick Frost, Martin Freeman, Paddy Considine, Thomas Law
It is particularly disappointing when a cast and crew who have previously made some positively great films, come together and make something so bland and frankly sad. Considering The World's End is a movie about a group of men on a pub crawl realizing that alien space invaders have taken over their home town, it is pretty boring. The concept makes it seem like it has the potential for hilarity, but in fact, it borders on being bleakly tragic. Simon Pegg's character is a man-child who peaked in high school and is desperately trying to bring back his former glory days by finishing the pub crawl he and his friends had started over twenty years before. The other characters are not much better off than him, aside from having successful careers. So when Pegg's character guilts them into going on the pub crawl, they all grudgingly go. It is a story about how friendships can be ruined by time and immaturity and about the problems inherent with living in the past.
The first half of the movie consists of this tension between all of the characters. Just when things get a little too heavy, the alien/robot plot begins, and things become a little more like the typical Pegg and Edgar Wright film. However, there is constantly this dark cloud looming over the whole affair, the realization that things did not work out the way they had all hoped. Even the ending is considerably bleak, considering it's supposed to be a comedy, and it was not very satisfying. In fact, it feels rather like a cop-out and doesn't seem to fit the rest of the movie at all.
The World's End is like the poor relation of Pegg and Wright's previous films Shaun of the Dead (2004) and Hot Fuzz (2007). There are many similarities between the films – having to make it to the pub for salvation, small town England filled with creepy townspeople with an "it's for the greater good" mentality – but where previous films managed to bring comedy even in tragedy, The World's End just falls flat almost every time. It just feels tired and unimaginative, and considering that these filmmakers used to feel so fresh just makes this fact all the more sad.
With its boring first half, tragic characters and lack of overall tension, The World's End is not a particularly great film. There are small moments where the creative genius of Pegg and Wright's previous films shines through, but these are too few and far between to make any lasting impression on the viewer. Save some money and rent Shaun of the Dead or Hot Fuzz instead; you will enjoy the experience much more. (Rose Finlay)