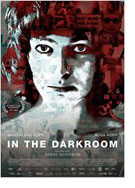 Opening 26 Sep 2013
Directed by: Nadav Schirman
Writing credits: Nadav Schirman

Do research some history before entering the cinema. Look up Carlos the Jackal. His real name is Ilich Ramirez Sanchez; he comes from Venezuela and is presently serving a life sentence in a French prison. He was probably the most famous political terrorist in the 1970s, fighting to "liberate Palestine." His most well-known crime was to kidnap OPEC people in Vienna in 1975. Always on the move, he lived in Palestine, West and East Germany, Damascus, Sudan, Yemen, Lebanon, etc. Better yet, check out the five-hour film Carlos by Olivier Assayas (2010).
In the Darkroom features a nondescript woman named Magdalena Kopp, the daughter of a postman and a waitress from Neu Ulm in Bavaria. She strove to emancipate herself from this low-middle-class background, first by deciding to become a photographer (against the wishes of her parents) and then, more dramatically, by moving into a commune and joining the political terrorism scene in Frankfurt. The Roter Stern (red star) cells organized protesters. She attached herself to the leaders of this group and made herself useful by forging passports. She worked (slept) her way to the top, spent a few years in jail, and married the most famous terrorist of the time: Carlos the Jackal. They fled to Damascus where daughter Rosa was born in 1986. She accepted this life and was surprised, when even Damascus would no longer harbor them; in 1992 Carlos sent her and Rosa to Venezuela to live with his family. In 1994 he was arrested and tried in France. Kopp finally grew up and began to think for herself. In 1995 she returned to Neu-Ulm, cooperated with German authorities and in 2007 wrote a book of her experiences: Die Terrorjahre: mein Leben an der Seite von Carlos.
All of this more or less comes out in the film, as director Nadav Schirman interviews Kopp (often sitting in the shadows of a darkroom or developing photos of pertinent people). There is film material about Kopp's friends, including another serious terrorist boyfriend, Johannes Weinrich. Perhaps most interesting, and perhaps new in this never-ending saga of German terrorists, are interviews with Kopp's sister Gerda Gunther, and, of course, with Rosa. She plays an important part in the film by adding memories of her father, although all contact ceased when Rosa turned five. In the end an adult Rosa visits him in his Paris prison.
This could be a soap opera if the repercussions weren't so serious. The film is interesting for amateur historians or anyone living in Germany at the time (I was). One mystery is the fate of an earlier daughter named Anna, who had a different father. Anna, obviously, wanted to have nothing to do with the whole lot of them. (Becky Tan)