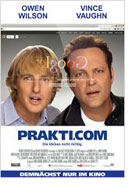 Prakti.com (The Internship)
U.S.A. 2013
Opening 26 Sep 2013
Directed by: Shawn Levy
Writing credits: Vince Vaughn, Jared Stern
Principal actors: Vince Vaughn, Owen Wilson, Rose Byrne, Aasif Mandvi, Max Minghella
Have you ever played a video game with your kids? If yes, than you can imagine two middle-aged salesmen competing with the generation "Harry Potter." Two forty-year-olds surrounded by a bunch of high-tech freaks, whose life experience is limited to virtual imagination, who only pretend as if they knew. They have many differences and only one thing in common: they are all unpaid interns by Google. Do they have any chance to win?
When Billy McMahon (Vince Vaughn) and Nick Campbell (Owen Wilson) lose their jobs, they both have grave prospects for the future. "But future is not later," one of the buddies says, when they decide to apply for a highly competitive internship at Google, that might lead to permanent employment. With only limited knowledge of computer and internet, in a team of other "leftovers", Nick and Billy stumble and fall at the beginning. Nevertheless they manage to show the young that there is life behind the computer walls and the real ideas can't be born without the connection to each other and to the real world. Though doomed to fail, they manage to build up a team and win the competition.
Billy is a head over his fellow trainees, not only physically, but also in the height of his experience. He feels himself lost in the internet jungle. Nick, played in Owen Wilson's nonchalant manner, is more gentle and romantic. His relation with a manager Dana (Rose Byrne) helps him to understand the Google side of life. Google is young, dynamically introverted, colourful, friendly, but somehow immature with no traces of private time and life. Its set is constructed as a huge adventure park, a mixture of baby playground and a high-tech Harry Potter attraction. The team manager Lyle (Josh Brener) is a 24-year-old copy of Harry: the same hairstyle, eyeglasses and shy look. One of the challenges is a wizarding sport of quidditch, where the teams on broomsticks chase an alien-like man, named golden snitch. Numerous ordeals of two middle-aged buddies competing with high tech nerds two times younger than they are provide for a number of humorous situations. The only person who falls out of the Google stream is Mr. Chetty (Aasif Mandvi), director of the interns' program, an ambiguous personality, performing one-man show on himself.
The end of the movie is very predictable: Billy and Nick have to fall before they rise. And these partly numerous, partly too obvious, obstacles lead to disappointment and annoyance, rather than to suspense. The experience and real life take the lead over the virtual one. Unfortunately, this real-life experience is limited to a wild night club party, romantic strolls through night San Francisco and a beautiful view over the Golden Gate Bridge. There could have been so much more to that.
If you want to have an easy entertainment in the company of Vince Vaughn, Owen Wilson, and the Ghost of Harry Potter, and you are ready to accept the rising star of Google as another fictional character, go watch this film. (Anna Sizorina)