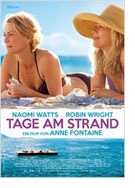 Opening 28 Nov 2013
Directed by: Anne Fontaine
Writing credits: Doris Lessing, Christopher Hampton, Anne Fontaine
Principal actors: Naomi Watts, Robin Wright, Xavier Samuel, James Frecheville, Ben Mendelsohn
George Bernard Shaw once said: "No question is so difficult to answer as that to which the answer is obvious." So what do we call the phenomenon of a mother falling in love with her almost child? In Adore, Roz (Robin Wright) falls in love with Ian (Xavier Samuel), Lil's son, and Lil (Naomi Watts) falls in love with Tom (James Frecheville), Roz's son. Roz and Lil raised both boys as if they were brothers. Roz and Lil are also very close, even more so, since Lil's husband died in a tragic accident when Ian was little. It all begins when the four of them are spending a day at the beach, in which Lil and Roz notice that their sons, who are riding the waves, resemble "young gods". From then on, furtive glances are stolen and the chemistry keeps building up until Ian kisses Roz and seduces her. Tom witnesses the encounter and seduces Lil shortly after. In the mean time, Roz's husband (Ben Mendelsohn) leaves to work in Sidney. The two couples pursue their relationship as if they were in paradise, with a gorgeous Australian beach as a backdrop. When Tom leaves for an internship in Sidney, he meets Hannah (Jessica Tovey), a girl of his own age. With this threat to their arrangement, both couples are confronted with the implications of their relationship.
Adore offers much room for labels, the "Oedipal Complex" being the most obvious one. But there are other (semi-)taboos that could be read into both relationships: semi-incest, the considerable age difference, but also homoeroticism on the side of the mothers as well as their sons, resulting in a sort of romantic love square. As expected from persons who have had a proper maturation in the Freudian sense, the question of morality is a constant companion in every decision made in Adore. Unfortunately, things really start to fall apart when the characters act according to what they think is the only respectable option.
This movie challenged me into pondering over the source of the character's misery. Was it just a payback for immorality or was there something else? Although both relationships pretty much mirrored each other in a circumstantial sense, I felt that the connection between Roz and Ian had a different emotional quality than the one between Lil and Tom. I am not sure whether I can consider the possibility that the latter couple just found love in the most unusual way. One way or the other, I liked the fact that this movie leaves room for interpretation and forced me to reevaluate my own beliefs. I also enjoyed the beautiful scenery as well as the sensual acting of the four main characters. (Katia Trost)


Second Opinion

Two best friends, Roz (Robin Wright) and Lil (Naomi Watts), live in an idyllic Australian beach side town. The two women have been friends since childhood and now in their 40's they live a bubble existence between work, beach and spending time with their two teenage sons. The boys Ian (Xavier Samuel) and Tom (James Frecheville) are also best friends and as beautiful to look at as their mothers. This seemingly wholesome foursome soon develops into taboo relationships between the women and their best friends' sons. The ultimate gesture of friendship is to share, what these women end up sharing is an off-kilter take on the Oedipus complex. The four continue their hedonistic lifestyle oblivious to the world outside their sheltered existence until both boys find age-appropriate women, date, marry and have children of their own.
Although you would expect this film to conclude with the boys growing up and getting on with their lives, the mothers growing old gracefully and enjoying being grandmothers, it does not. It does leave you wondering what you would share with your best friend and how far you would put your own needs ahead of your child's. This MILF film does keep you from getting too self righteous by the distraction of the cinematography -- gorgeous bronzed Aussies, lots of toned flesh, idyllic setting and homes you want to live in. (Christine Riney)