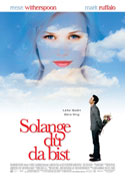 Solange Du da bist (Just Like Heaven)
U.S.A. 2005
Opening 1 Dec 2005
Directed by: Mark Waters
Writing credits: Peter Tolan, Leslie Dixon, Marc Levy
Principal actors: Reese Witherspoon, Mark Ruffalo, Donal Logue, Dina Spybey, Ben Shenkman
Just Like Heaven takes a fun jab at the art of disengagement – both physical and emotional. With a curious blend of superficiality and disingenuousness, emotional disengagement allows caring doctors not to care, loving spouses not to love, compassionate conservatives not to be compassionate and Christians not to act like Christ. Star Trek fans could only admire Mr. Spock's ability to be so cool under fire – but at the price of having no emotions whatsoever.
It took a near death experience to literally put the life back into Elizabeth, a workaholic E.R. doctor played by Reese Witherspoon (Legally Blonde, Sweet Home Alabama). For the last three months she has been in a coma after a car accident and becomes partially awakened only when she sees the new tenant in her apartment put a wet glass on her coffee table – how dare he!! David, played by Mark Ruffalo (My Life Without Me, Eternal Sunshine of the Spotless Mind), spends the next few days trying to get rid of this unwelcome ghost, after first convincing himself that he was not just seeing things and losing his mind. But he soon falls in love with this lost spirit and helps her slip back into life as well as back into her own body.
The chemistry works between them and the happy ending is believable. A life without real emotional and physical attachment is no life at all. However, if you find yourself squirming in your seat due to the message hitting too close to home, then take note. Start judging a book more for its contents than for its cover. Or, in other words, stop talking the talk and start walking the walk. It's worth the risks to live a more honest and more engaged life.
Trivia Notes: Reese Witherspoon spent the first four years of her life in Wiesbaden as her father was a military surgeon and was stationed there with the Army Reserves. Mark Ruffalo's film career was going nowhere until he hooked up with playwright Kenneth Lonnegan and became a hit in New York in the play This Is Our Youth. He then was the male lead in Lonnegan's film in 2000 You Can Count On Me, and his future in film was set. (Patricia Ritz)