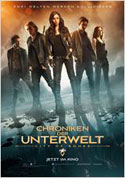 Chroniken der Unterwelt (The Mortal Instruments: City of Bones)
U.S.A./Germany/Canada 2013
Opening 29 Aug 2013
Directed by: Harald Zwart
Writing credits: Jessica Postigo, Cassandra Clare
Principal actors: Lily Collins, Jamie Campbell Bower, Robert Sheehan, Kevin Zegers, Jemima West
Clary Fray (Lily Collins) seems like just a typical New York teenager with an artistic mother (Lena Headey) and a best friend who is secretly in love with her (Robert Sheehan). However, on her sixteenth birthday, she begins subconsciously to draw a strange symbol over and over again without knowing why. Later in the evening when she is out celebrating her birthday at a club, she witnesses a murder that no one else can see and the next day her mother mysteriously disappears. Clary soon finds out she is, in fact, descended from a long line of demon hunters, and she must work with a mysterious boy named Jace (Jamie Campbell Bower) in order to track down her mother before it's too late.
Let's just get this out of the way: City of Bones is a waste of time and there is no reason to go and see it. As it is an adaptation of an extremely popular book series, there is no doubt that it will be successful. However, if you are not a super fan (or really, even if you are) there is nothing new or exciting or even remotely worthwhile about this film. It is like vanilla ice cream. Oh boring and unoriginal teen film, let's count the follies.
First, there is a watered-down female protagonist who is way out of her depth and falls into every stereotypical trap. Clary is not a "strong" girl no matter how much Hollywood would like us to believe it. She faints or falls trembling to the ground whenever she feels overwhelmed, she is also in the middle of a love triangle where she constantly is confused and needs help from the men in her life. Clary is just a tired two-dimensional female heroine.
Second, there is Jace, the deep and brooding male love interest (who Clary is clearly going to fall for) with a mysterious past. He doesn't get much development, but somehow despite the fact that everyone lauds his fighting abilities, he still manages to lose every fight he gets into.
Third, there's Simon, the nice-guy best friend who secretly loves the protagonist. He has no demon powers, is treated generally poorly throughout and gets to have the fun of being betrayed by his best friend who has been leading him on all of these years. In addition to all of this unoriginality is the climax of a Big Bad Dad with a "Luke, I am your father" revealation, as if we weren't sick and tired of that after Star Wars (1977).
To be fair, City of Bones is not unwatchable. Heck, some people might actually enjoy it. Nevertheless that doesn't mean it isn't a lazily made film in a long line of lazily made films. While it is great that there has been such resurgence in the teen novel (and consequently film) with female protagonists, it is unfortunate that so many of these characters continue to fit sexist stereotypes. Even the male characters also are not given any room to grow outside of their predetermined masculine roles of love interests, which is equally problematic. The characters are all two-dimensional to such a degree it is almost impossible to empathize with them. Due to this, there is no real tension in the film. What? Clary is going to kiss Jace? Who cares? Yawn. Oh, Simon got abducted by vampires? Too bad for him. How is a film supposed to be interesting if the characters are not? Well, the filmmakers probably believe that if there are reasonably attractive guys as love interests the teen girls will love them regardless of their lack of personality. Unfortunately, for those of us who are not suffering through the hormone highs of adolescence, it just makes the movie rather tedious.
In general, the film is poorly written, poorly paced, and the unimaginatively directed. Teens will probably love it, but then again, teens loved the Twilight films as well and they weren't exactly masterpieces. However, if you like some depth in the movies you watch or if you like to see well-paced action, then this film is not for you. If you want to see a silly teen romance filled with swooning, boring fight scenes and cringe-worthy romantic lines, then this might be your favorite flick of the year. (Rose Finlay)