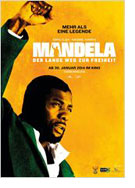 Mandela: Der lange Weg zur Freiheit (Mandela: Long Walk To Freedom)
U.K./South Africa 2013
Opening 30 Jan 2014
Directed by: Justin Chadwick
Writing credits: William Nicholson, Nelson Mandela
Principal actors: Idris Elba, Naomie Harris, Terry Pheto, Tony Kgoroge, Riaad Moosa
Nelson Mandela, already a legend during his lifetime, survived 27 years in prison and was South Africa's first democratically elected black president. This former political activist became an emotionally strong and eloquent statesman. By peacefully toppling the apartheid system he changed the world.
The biopic by Justin Chadwick is adapted from Mandela's own book Long Walk to Freedom, published in 1994. Spanning decades it shows not only the human side of Mandela, but truly conveys the atmosphere during the apartheid era. The young Mandela grows up with the rituals and values of his forefathers, the royal house of Thembu in the hills of Transkei. By 1942 he is an ambitious and engaged lawyer in Johannesburg where he meets his great love and soul-mate Winnie.
When the "white government" introduces more and more laws restricting the development and rights of black people, he joins the ANC (African National Congress), at first as a charismatic speaker, and later becomes a key figure of the armed wing Umkhonto we Sizwe ("the spear of the nation"). Mandela and his comrades-in-arms are sentenced to life imprisonment in 1962. On Robben Island, the infamous prison camp near Cape Town, they are slaving in the hot sun. His wife Winnie has to bear the burden of political activism as well. She herself is imprisoned, having to leave her small children in the care of a relative. Instead of breaking her, it makes her an embittered radical full of hatred for the government. Naomie Harris convincingly plays the complex character of Winnie, from a flirting beauty to the unscrupulous freedom fighter. Idris Elba possesses the commanding presence needed for his performance as a leader even though his robust physic gets in his way as an aging Mandela.
Director Chadwick's fast-moving narrative incorporates news flashbacks of riots against the white government's oppressive laws. Apart from being a condensed version of South Africa's complex historical events, the movie focuses on Mandela's relationship with Winnie. This makes it a mix of documentary and love story. Cinematographer Lol Crawley's beautifully shot images are suitably accompanied with an African music score by Alex Heffes.
The movie is a worthy homage to Nelson Mandela, an extraordinary man, who became a symbol for peace and hope. He died on December 5, 2013, in Johannesburg at age 95. (Birgit Schrumpf)