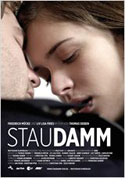 Opening 30 Jan 2014
Directed by: Thomas Sieben
Writing credits: Christian Lyra
Principal actors: Friedrich Mücke, Liv Lisa Fries, Arnd Schimkat, Dominic Raacke
Roman (Friedrich Mücke) is a young man in his twenties. Parties, computer games, easy relationships take the most of his daily life. He earns money by making voice records of cases and legal documents for a public prosecutor. One day his attention gets caught by an amok case in a country school. His employer sends him over to pick up additional documents and witness statements. So begins the story with many questions that we ask ourselves when we think about a kid shooting indiscriminately both his teachers and schoolmates. And so, also, begins Roman's travel through steel grey landscapes, clouds heavy with snow, mind full of doubts to a small place called Staudamm.
Being unable to get all the papers at once, Roman is doomed to stay longer. He uses this chance to get acquainted with the tragedy set. Staudamm is a dull town in a valley surrounded by the mountains. It is the place, where the feelings are twisted in a tight knot of anger, guilt and shame. It is a small world, where everyone knows everything and nothing about his neighbour. It is a closed circle, where every stranger becomes a violent attention. Pain and fury, despair and emptiness like the streams flooding down the mountains, are trapped by the dam.
There he meets Laura (Liv Lisa Fries): a survivor, a witness, a young soul imprisoned in the Staudamm knot. She keeps returning to the empty school building, wandering through its stuffy corridors and classrooms, looking for the answers and the way to escape. She reaches for a new person, like for a gulp of fresh air. And Roman turns to her to nurture her need for love and support. Together they will have a long ride to Munich to see light at the end of the tunnel.
The movie won the prize for best "youth" film in Cottbus, Germany, and the ecumenical jury prize in "Achtung Berlin!" regional film festival in 2013. It played at international festivals in Montreal and Sao Paulo. In spite of these facts, I did not like it. I spent days trying to explain to myself why. It is a story that kept my attention alert and my mind working. It was a true report for a well-established magazine, with a thorough journalistic investigation and the interview of participants. It was a brilliant documentary. It gave me ideas, but it did not appeal to my feelings. A movie is a bit more than that. (Anna Sizorina)