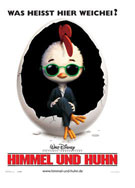 Himmel und Huhn (Chicken Little)
U.S.A. 2005
Opening 26 Jan 2006
Directed by: Mark Dindal
Writing credits: Robert L. Baird, Steve Bencich, Ron J. Friedman, Dan Gerson
Principal actors: Zach Braff, Garry Marshall, Don Knotts, Patrick Stewart, Amy Sedaris
You all know the folk tale, or at least remember Chicken Licken of "the sky is falling" fame. The moral was something about exaggeration and jumping to conclusions. It wasn't a very engaging yarn, but most of us find it memorable thanks to those fabulous rhyming names like Foxy Loxy, Goosey Loosey, Cocky Locky, Henny Penny, and Turkey Lurkey.
That's about all that the new Disney version Chicken Little (Himmel und Huhn) has going for it, too. When lil Chix gets another piece of hexagonal sky dropped on him, we are promised "a sophisticated and satirical twist to the classic tale". Bah! Certainly Disney can pay enough to get some new writers that don't resort to aliens punching through the sky and tired themes of fathers-not-understanding-sons. So what is new? Well, if you are in a DisneyDigital Theater, you can see it in new 3D-CG technology (we did not). The styling of the characters, while unique individually, didn't mesh well. Too much action stuffed in a busy frame made me yearn for clean Toy Story vistas of yore. The writer/director Mark Dindal has the slimmest of pickins on his Disney resumé, claiming the "hilarious and zany" The Emperor's New Groove as his highlight in 2000 (ouch). Maybe that explains it.
You'd be better off with the really creative intepretation of Chicken Little by investing in the children's book The Stinky Cheese Man and other Fairly Stupid Tales by Jon Scieszka and Lane Smith.
While an endearing Finding Nemo this is not, my kids (ages 10 and 4) did actually enjoy the film, warranting the 2 stars. Plus, I liked the addition of Goaty Loaty. (Kirstan Böttger)