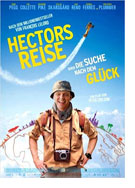 Hectors Reise oder die Suche nach dem Glück (Hector and the Search for Happiness)
U.K./Germany/Canada/South Africa 2014
Opening 14 Aug 2014
Directed by: Peter Chelsom
Writing credits: Maria von Heland, Peter Chelsom, Tinker Lindsay, François Lelord
Principal actors: Rosamund Pike, Simon Pegg, Stellan Skarsgård, Toni Colette, Jean Reno
Everybody wants to be happy. Hector (Simon Pegg) wants to be happy too. He is a psychiatrist and is supposed to make his clients happy. Instead he gets more and more depressed himself. What is the secret of happiness? One of his crazy patients tells him that he is in need of a vacation. He could take a trip around the world to find out what makes people happy. His longtime girlfriend Clare (Rosamund Pike) is not amused. Why now, after their perfectly "happy" years together? She is very suspicious of the idea but wishes him good luck. Off he goes with backpack, water flask and a map of the world, travelling from Paris straight to China, hopping over the continent to Africa and crossing the ocean to Los Angeles. He seems unstoppable in his efforts and does not shy away from hardship. With a curious mind he is asking lots of questions of the people around him and meticulously keeps a dairy of his experiences.
There are times when Hector is not happy at all. He is captured and tortured by bandits, and the airplane ride on his trip to Africa has him shaking with fear for his life. Luckily, bad experiences can take a good turn. A friendly big mama promises him a real traditional bean stew should they survive the flight.
We see Jean Reno in a small role giving a typical cool performance of the gangster Diego. Hector manages to become his friend. The great Christopher Plummer acts as professor Coreman lecturing his students about the intricate human brain functions for which Hector is undergoing a mind-boggling test in the name of science.
This mix of a road movie and a romantic comedy offers a glimpse into the human soul told with humor and a certain playfulness. It is entertaining and uplifting to watch how the big questions of life are handled with a twinkle in the eye. The film is based on the novel Le voyage d'Hector ou la recherche de bonheur by François Lelord, which was a huge success in France as well as in Germany. The original version of this German film is in English. (Birgit Schrumpf)