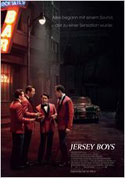 Opening 31 Jul 2014
Directed by: Clint Eastwood
Writing credits: Marshall Brickman, Rick Elice
Principal actors: Vincent Piazza, John Lloyd Young, Steve Schirripa, Christopher Walken, Kathrine Narducci
The Four Seasons quartette had its heyday throughout the 1960s. Members were Tommy DiVito, Frankie Valli, Nick Massi, and Bob Gaudio. They were famous for such songs as "Sherry," "Can't Take My Eyes off of You," "Big Girls Don't Cry," or "Oh, What a Night" to mention just a few. A prize-winning musical based on their careers, Jersey Boys, premiered on Broadway in 2005. Not surprisingly, Clint Eastwood was the Hollywood director who realized the potential of the musical and brings us the film.
Jersey Boys opens in their home town of Belleville, New Jersey, in the 1950s, where the future holds three possibilities: die, go to jail, or become famous. Frankie Valli (actually Castelluccio) was still a teenager. Tommy, Frankie, and Nick stick together, performing under different group names, long after other participants have come and gone. We follow their lives as part-time gangsters and singers, as well as their relationship to the loan shark Gyp DeCarlo (Christopher Walken). They hang out and discuss women whom they judge to be type A or B. Tommy (Vincent Piazza: best lines and best-looking) was the organizer and made his own rules with little regard for others. In the end a lax relationship to money and teamwork caused his downfall. Frankie was the real voice of the group. However, it isn't until singer/songwriter Bob Gaudio (Erich Bergen) joins that they become the Four Seasons and rise to the top of the hits list. Bob, who wrote songs, as well as sang, always remained independent, his own man, and later worked exclusively with Frankie. The film progresses with occasional flash backs as the four boys tell their perspectives.
Actor/singer John Lloyd Young also played Frankie Valli in the original musical, winning prizes for his accomplishments. The film features his singing and, luckily, there are many original music scores from the Four Seasons. Bob Crowe (Mike Doyle), the original Four Seasons manager who made their first records, as well as Bob Gaudio contributed to the realization of the film.
Naturally, you'll have to see the musical sooner or later, to round out your experience; live music provides a different atmosphere. Until then, see Jersey Boys, the film, which actually presents the biographical details more clearly than the musical. Sit in the back row so that you can stand up and dance. There is a good story-line and fine acting, but it's the music that really counts. And see it in English to get the full force of that Jersey accent. (Becky Tan)