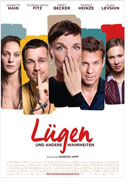 Lügen und andere Wahrheiten
Germany 2014
Opening 11 Sep 2014
Directed by: Vanessa Jopp
Writing credits: Stefan Schneider, Vanessa Jopp
Principal actors: Florian David Fitz, Jeanette Hain, Alina Levshin, Thomas Heinze, Meret Becker
It all starts with a little white lie – and it ends in confusion, chaos and tears. Five young people are involved with each other in different ways and don't see how easy it is to get entangled in harmless lies or half-truths. To back-paddle from such a position is not as easy. Most of the time they don't mean any harm and don't want to hurt the other person. Sometimes it is out of fear, jealousy or sheer despair.
Coco (Meret Becker), soon to be married to Carlos (Thomas Heinze), is "lovingly" deceived by a number of persons surrounding her. Her fiancé, the charming Carlos, promises to stay away from alcohol until the upcoming wedding ceremony. Oh yes, he will only meet with a few friends for a boys' get-together. As you can guess, he is gets hopelessly drunk, so drunk that the whole bunch of happy guys land in a luxury brothel with Carlos handing out his credit cards. On his way home the police not only relieve him of his car but also his driver's license. The following days are a real challenge for Carlos in finding new excuses for hiding his dilemma.
Patti (Jeanette Hain) hides her affair with yoga teacher Andi (Florian David Fitz). Andi hides some serious problem from Patti. Coco's dental nurse Vera (Alina Levshin) is quite obviously lying to hide her mistakes. Vera in turn is being deceived by her own family in Russia wanting money for a fake operation. The wedding date comes nearer, the rings have to be collected and paid for. Carlos' hour of truth approaches – but also Coco needs to take a good look at herself. Has she been lying to herself?
In this comical drama Vanesse Jopp started off with a loosely written script. This allowed the team of experienced actors some light-hearted spontaneity. Especially Meret Becker shows the wide spectrum of her acting talent opposite Thomas Heinze. (Birgit Schrumpf)