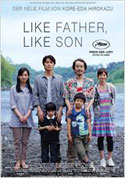 Like Father, Like Son (Soshite chichi ni naru)
2014
Opening 25 Sep 2014
Directed by: Hirokazu Koreeda
Writing credits: Hirokazu Koreeda

Ryota is a successful architect. He and his wife Midori live happily with their six-year-old son Keita in their luxurious apartment; they enjoy all the fringe benefits of the upper class. They lean toward being helicopter parents, insisting on regular dinner hours, piano practice, and good grades at a private school. What a shock when they learn that dear Keita is not their own blood son. At his birth the hospital made a mistake and switched two boys. Midori's guilty conscience plagues her: why didn't she notice at the time?
The hospital admits its mistake and puts the two families in touch with each other. Yudai and his wife Yukari are raising Ryusei, along with two other children, who are their own. Yudai has an appliance store and drives an old van; he wouldn't mind some kind of compensation from the hospital for this "mistake." Otherwise, he would be happy to have both boys – no problem – the more the merrier. Here money plays a lesser role as do adhering to rules and schedules. Ryusei has learned to take responsibility for himself and his family.
The film gives much to think about. What is more important: environment or genes? Is it possible to change families in mid-stream? The parents struggle for open-mindedness and the good of the children, which is difficult because "nobody exchanges his cat or his dog." They keep in contact; they invite the boys to overnight at each other's houses. They have meals together. The two mothers bond easily, while the two fathers keep a wary distance. Naturally, many children in the world have survived traumas worse than this. And in the end the children decide for themselves.
A very worthwhile film, there is talk that the US will make an American version, but until then this Japanese version is definitely food for thought and discussion. (Becky Tan)