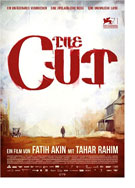 Opening 16 Oct 2014
Directed by: Fatih Akin
Writing credits: Fatih Akin, Mardik Martin
Principal actors: Tahar Rahim, Simon Abkarian, Makram Khoury, Hindi Zahra, Kevork Malikyan
It is the year 1915, the Great Ottoman Empire is involved in World War I, and suddenly the Armenian community in southern Turkey is treated as the enemy. Turkish military forces are banging on the door of the Armenian blacksmith Nazaret Manoogian (Tahar Rahim) in the middle of night. He is torn away from his loving wife (Hindi Zarah) and twin daughters. All able men from his village are forced to heavy labour, building a road through the desert. They are promised to be released if willing to deny their Christian faith. The men who refuse to give in to this temptation are herded along a lonely path into the mountains near the Syrian border. There, they are savagely slaughtered like animals. Nazaret is saved by Mehmet (Bartu Kucukcaglayan), who pretends to have murdered him. The cut through Nazaret's neck is deep and has badly damaged his vocal cords. From now on he is mute! The concern for his family keeps him alive. Desperately he marches through the endless desert and over barren, majestic mountains searching for his wife and children. At Ras-al-Ayn, a death camp with starving women and children, he is told that his whole family is dead. (This should have brought tears to my eyes but instead I was disappointed with the unnaturally filmed scen,e which felt like a set on a theater stage.) After Nazaret's sister-in-law dies in his arms, he leaves the camp behind. The kind soap-maker Omar Nasreddin (Makram J.Khoury) finds him totally exhausted and gives him shelter behind the safe gates of his home.
When the war ends, in November 1918, the Turks have been defeated by the English and are leaving Aleppo. The Armenians are free again. Nazaret learns that his twin daughters are still alive. Full of hope he goes on a frantic search for them only to find out that they have been married-off to husbands in faraway Cuba from where they, once again, had moved on. There follows an odyssey of wandering the globe in search of his twin daughters. Months turn into years. He never gives up, finally reaching the shores of the American continent. Here, too, he has to endure much hardship. His mean fellow workers brutally beat him up when he tries to save an Indian woman from being raped, calling him a Jew (!). He bravely trudges on and on through the wintry prairie plains eventually leading him to North Dakota. I wonder that Nazaret has not aged during all the years. In 1923, he still appears to be a youthful man with only a few strands of grey sprinkling his black mane.
With this epic drama, filmmaker Fatih Akin completes his trilogy of "Love, Death and Devil". After the two powerful films Head-On, 2004, and The Edge of Heaven, 2007, The Cut shows how close "evil" and "good" are, but one misses the intensity of the earlier films.
During the entire movie the rhythmic music arrangement of Alexander Hacke adds grandeur to the locations and the impressive images taken by Rainer Klausmann. Fatih Akin courageously handles a taboo which had been hushed-up and denied for generations. He made an important statement with this ambitious historical family saga of suffering and injustice, of a people's emigration and immigration, of moving to the West to find a new life. (Birgit Schrumpf)