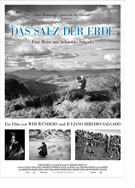 Das Salz der Erde (The Salt of the Earth)
Brazil/Italy/France 2014
Opening 30 Oct 2014
Directed by: Wim Wenders
Writing credits: Wim Wenders, Juliano Ribeiro Salgado, David Rosier, Camille Delafon

The German filmmaker Wim Wenders accompanied the renowned Brazilian photographer Sebastião Salgado and his son Juliano Ribeiro Salgado on their travels spanning from Galapagos to the edge of Siberia. The result is Wenders' impressive documentary Das Salz der Erde (The Salt of the Earth), which is not just an homage to a great photographer but a view of the world as seen through the lens of this intelligent and energetic 70-year-old artist.
Sebastião Salgado grew-up with six sisters on the family farm in the state of Minas Gerais, Brazil. After his studies in Sao Paulo and Paris he started his working career as an economist for the International Coffee Organization in London. At the age of 26 he decided to follow his vocation and started working as a full-time photojournalist, travelling the world documenting news events for agencies like Magnum, Sygma, Gamma. During the 1970s he began photographing the rural peasants of Latin America, often being away from his wife and son for months. This project resulted in the publication of his first book Other Americas in 1986. Thereafter, he began documenting the effects of famine in Africa working together with Doctors without Borders. He donated the proceeds from his book sales to this humanitarian organization.
Many of his photos bear witness to the shocking development during the last four decades around the globe, like international conflicts, famine, ecological disasters (burning oil fields), displacement of peoples and its after-effects. Despite the harsh circumstances Salgado always respects and captures the dignity of the people in front of his camera. His quote: "Photography is not objective. It is deeply subjective – my photography is consistent ideologically and ethically with the person I am." Some of his book titles are Workers (1993), Exodus (2000) and Africa (2007), to mention just a few.
With Salgado explaining his work and talking about his experiences, it feels like the photographs are coming alive by the clever projection onto a semi-transparent mirror. The complex black-and-white images are enhanced by the clever use of Wenders' monochrome footage while co-director Juliano Salgado adds his shoots in colour.
The focus on the hardships and horrors of the world had not been without an effect on Salgado's own life, and he fell into a phase of despondency. In order to find a balance he started his new project Genesis. After showing the destruction and sufferings afflicted by mankind, he is now turning his camera to beauty, revealing the unspoiled corners of the earth – returning to the beginning. Together with his wife Léla, who has always been a vital support of his projects, he founded the environmental education center Instituto Terra in 1998. They are successfully restoring part of the Brazilian rain forests, so far with more than two million trees.
There is a positive ending to the impressive documentary of this deeply committed, hard-working man and talented artist. The enlarged photographs look stunning on the big screen. Salgado's work is inspiring, giving food for thought regarding our role in a civilized world. For all art and photography lovers it is a highly recommended film. At Cannes Festival the film showed in the section "Un Certain Regard". (Birgit Schrumpf)