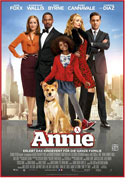 Opening 15 Jan 2015
Directed by: Will Gluck
Writing credits: Will Gluck, Aline Brosh McKenna, Thomas Meehan, Harold Gray
Principal actors: Quvenzhané Wallis, Cameron Diaz, Jamie Foxx, Rose Byrne, Bobby Cannavale
The Little Orphan Annie is having another hard-knock life in the reboot of the beloved musical Annie. In this contemporary retelling, Annie is taken out of the Great Depression, the original setting of the stage musical and 1982 film, and is thrust into a modern setting. The classic songs so beloved by generations have also been updated by musical artists Sia and Greg Kustin who also wrote several new songs for the movie such as the Golden Globe nominated "Opportunity". Despite this attempt to make the classic musical more relatable and modern, it loses some of the charm that made the original so wonderful.
The switch to modern times seems rather pointless considering little time is taken to make this a relevant choice. The original play is based on the comic strip Little Orphan Annie, which began in 1924 and took on several important political issues of the time. Setting the musical in the '30s fit with the heyday of the original comic. Moving the time period to the 2010s would have been more effective if it had brought forward some of the interesting socio-political aspects of today, but instead it just seemed to be used as a way to incorporate cellphones into the plot, which just seemed to cheapen everything.
Overall, this adaptation has lost some of the magic which made the original 1982 film starring Carol Burnett and Aileen Quinn so successful. The fault lies primarily with the casting. Despite Quvenzhané Wallis continuing to be utterly lovely, the overacted and flaccid performances of her co-stars ruin any chance this film had of being good. Cameron Diaz lacks the comedic chops (and vocal ability) to pull off the down-and-out Miss Hannigan. Likewise, Jamie Foxx seems to be phoning in his part, but this may also be related to how much of a caricature his character became in the film. This is particularly disappointing considering it is the first film adaptation of the story to have Annie as an African American and also to have a interracial relationship between Grace Farrell (Rose Byrne) and Oliver Warbucks/William Stacks (Foxx).
While it seems certain that this film will do well enough with Christmas family audiences, it doesn't really deserve any accolades. It is cute and good-enough for a feel-good family film, but the modern update, the autotuned voices and the sub-par acting by the adult cast makes this one a bust. (Rose Finlay)