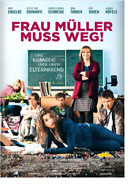 Frau Müller muss weg!
Germany 2015
Opening 15 Jan 2015
Directed by: Sönke Wortmann
Writing credits: Lutz Hübner, Sarah Nemitz, Oliver Ziegenbalg
Principal actors: Gabriela Maria Schmeide, Justus von Dohnanyi, Anke Engelke, Ken Duken, Mina Tander
What fun to walk into the cinema with no clue what to expect and to leave two hours later, having watched one of the best films of the year AND then to realize that everyone already knows all about it, except you – and you thought you knew everything!
Frau Müller muss weg was originally a play by Lutz Hübner and, over the last four years, has been performed all over Germany, including in Hamburg's own Winterhude Fährhaus. Now the play has been made into a film featuring some of Germany's finest actors such as Anke Engelke and Justus von Dohnányi. One colleague has quite rightly compared the film to Roman Polanski's film Carnage, based on the play by Yasmina Reza.
Five parents of four fourth graders show up on a Saturday at a school in Dresden. They want to talk with their child's teacher Ms. Müller. These parents consider themselves to be official class representatives and have a list of signatures to prove it. The school janitor opens the door, perplexed that they are in school on a Saturday; he knew nothing about a meeting. Obviously, Ms Müller has been notified, because she arrives late on her motorcycle. The purpose of the visit is to fire Ms Müller for pedagogical incompetence. Ms Müller reveals some facts about their kids: Janine, Lucas, Fritz, and Laura. She eventually leaves the room, but forgets to take her purse. Thus we are left with the parents, who continue the discussions among themselves and then set off to search for Ms. Müller in the school. This leads to revelations of who is sleeping with whom, a soaking wet Anke Engelke, and a furtive search through Ms Müller's purse.
You will love the ending. You will recognize all of these parents, as well as the kids and maybe even yourself a bit. Naturally, you aren't that obnoxious, although, if you are desperate for your child to get into Gymnasium after fourth grade, anything is possible. (Becky Tan)