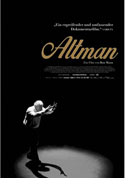 Opening 19 Feb 2015
Directed by: Ron Mann
Writing credits: Len Blum

Director Robert Altman (1925-2006) left a huge legacy of fantastic films, which still delights viewers of all ages. Born and raised in Kansas City, Missouri, he served in the U.S. Air Force during World War II. After unsuccessful attempts to break into the Hollywood entertainment business, he began serious work for the Calvin Company, back in Kansas City. The Calvin Company was, at the time, the most successful producer of educational and industry films for schools and businesses. Here Altman learned the trade. One film he made at that time, shown here, was How to Run a Filling Station (1953). He met his third wife Kathryn Reed on the set of Million Dollar Mermaid (1952), and they provided for six children in their 47-year-marriage.
He returned to Hollywood for a second attempt and successfully made films for the Alfred Hitchcock TV Show, as well as many other TV series throughout the 1960s. His big break came when nobody else wanted to take on a new TV series called M.A.S.H. , which was a roaring success, beginning in 1970. Altman's visions didn't always receive instant acceptance and he worked hard to instill new ideas, for example: overlapping dialogue. He said that in real life people interrupt each other regularly – why not, then, on screen.
The best part of the film was watching trailers and references for many, many films, made throughout his whole life, e.g., Traffic Safety (1953), The Long Goodbye (1973), Nashville (1975), A Perfect Couple (1979), Popeye (1980), or, more well-known: The Player (1992), Short Cuts (for which he won top prize in Cannes in 1993), Gosford Park (2001), up to his last film A Prairie Home Companion in 2006. I counted probably 25 film trailers which represent over fifty years of his life.
Many special friends and colleagues, e.g., Lyle Lovett, Julianne More, Robin Williams, and Bruce Willis, are asked to describe Altman in a nutshell. They come up with comments like, "showing Americans who we are" or "expect the unexpected." Not only is this documentary quite excellent, it also encourages the viewer to research more about Altman on other media and check out films one might have forgotten. It's amazing what just one Missouri boy can achieve. (Becky Tan)