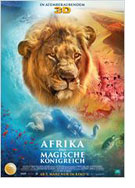 Enchanted Kingdom 3D (Afrika Das Magische Königreich)
U.K. 2014
Opening 5 Mar 2015
Directed by: Patrick Morris
Writing credits:

This film takes us on a journey through several unique and precious African countries. The 3D camera work is the main character in this film. We literally fall from the sky into the depths of the rainforest and as we land on the ground, we see life from the viewpoint of an insect. We then travel to Ruanda to the mountain gorillas, pink flamingos and Nile crocodiles to such an extreme that you feel them breathing on you.
Clearly the two men who worked on this film went way over the normal uses of a camera and creatively had to build devices to get that close to these creatures of wonder from every possible angle. The landscape is breath-taking and the narration takes you through a variety of animals that may cease to exist. It is a film that has to be seen on the big screen and it is a film that certainly can be seen more than once.
This film is connected to the wild screen photography festival that takes place in October in England. It is also a nonprofit organization supporting wild life. For more information, check under wildfestival dot org. (Shelly Schoeneshoefer)