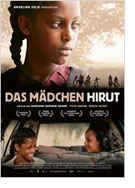 Opening 12 Mar 2015
Directed by: Zeresenay Mehari
Writing credits: Zeresenay Mehari
Principal actors: Meron Getnet, Tizita Hagere, Rahel Teshome
Set in a rural village three hours outside Addis Ababa, a common and old traditional practice takes place causing the people to reconsider the value of this tradition in a modern world. A clever 14-year-old student on her way home from school is swept up like a sack of potatoes, taken to a bar, then raped and held prisoner until her family agrees to her marriage. But Hirut will not give up so easily and in doing so attempts to escape with a rifle in hand. In the end she shoots the man in self-defense and is immediately arrested. According to village law she is to be put to death, but the elders examine the situation with modern eyes and decide to expel her from the village.
She still faces charges under Ethiopian law and, luckily for her, she has an ambitious young lawyer who is determined to change the future for women in her country. The young lawyer tries to set up a network for women and children to get free legal representation while finding herself in a battle against police and government officials that eagerly harass her at every possible moment and try to sabotage her work.
For director Zeresenay Berhane Mehari, this film had to be done on his terms. He had offers from Hollywood, which would include Halle Berry as the main actress, but the film would have to be done in English and there were a number of unacceptable conditions. The story was not easy to do. It took three years to do the research and complete the financial solution. This meant that he and his team had to get creative and do it also in a nontraditional way. They went to kick-starter campaigns and crowd-sourcing in order to get the funds to make a film in their country with their own actors and, most importantly, in their own language. This is his first full-length, feature film and is important for his country since they plan to do a road tour and show it to the people living in the rural villages. They plan to use the already existing community-based infrastructures to help them.
It was quite exciting at the Berlinale 2014 press conference since the lawyer, Meaza Ashenafi, who, in real life was the inspiration for this film, was present. She is hoping that this film will spark on the dialog of women rights. It is hard to fight a tradition that is three thousand years old and still goes on till today in the countryside. The tradition of abduction is found in all provinces in Ethiopia where young girls are forced into marriages and quit school. The idea is that the man tried to get her pregnant and then claimed fatherhood, while at the same time demands bridal gifts from the family to solidify the marriage.The title has a double meaning: it means "to be raped" but also "courageous," and it could not be more appropriate since it represents a change of attitude in the society. Both actress Meron Getnet and the lawyer Meaza Ashenafi are famous in Ethopia but had never met until this film.
It is hard to imagine that this is only the fourth non-digital film ever made in this country, but it was important to Director Mehari because it had the quality he wanted for this documentary styled film. But it, of course, produced some complications like moving 2000 pounds of equipment to Ethiopia, and also there is no film lab there. This meant that they had to send the films to India every couple of days.This is the fourth film on 35mm film. Getnet was very proud to play the part. Everyone knows her because she has a powerful presence for women's rights. It was not difficult to find actors or actresses since they do have a great tradition of theater. (Shelly Schoeneshoefer)