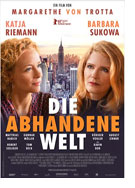 Opening 7 May 2015
Directed by: Margarethe von Trotta
Writing credits: Margarethe von Trotta
Principal actors: Katja Riemann, Barbara Sukowa, Matthias Habich, Robert Seeliger, Gunnar Möller
One of Germany's foremost film directors, Margarethe von Trotta (Rosa Luxemburg, 1986 / Hannah Arendt, 2012), once again has chosen a strong cast for her new film The Misplaced World (Die abhandene Welt). Most of them had worked in her previous films. In contrast to Von Trotta's last works, this is on a lighter scale even though dealing with dramatic and disturbing family events and her own very personal experience. Only after the death of her mother was she told that she had a sister.
The film starts with Sophie (Katja Riemann) interviewing a young, naive couple about their wedding vows. The next scene shows her in a lounge bar performing jazzy songs. The phone rings: Paul, her father (Matthias Habich), summons her urgently to look at a photo of an American opera singer he had discovered per chance on the internet. Even Sophie thinks she looks disturbingly like her recently passed mother Evelyn, who calls herself Catarina (Barbara Sukowa). Paul begs Sophie to fly to New York to meet this mysterious double. It's not that easy to get close to a famous diva at the Metropolitan Opera, but the good-looking Sophie gets some help from the young manager (Anton Algrang), who immediately falls in love with her. A bit kitschy? Yes, and not very convincing. Caterina is behaving like a real diva, temperamental and irritated by the intruder who wants to dig into her private life, into her past.
The puzzle gets more complicated when Sophie meets the friendly but demented Rosa (Karin Dor), who talks to her in German and must have been very close to her own mother. Who is who in this family? Paul's behavior is getting more irrational. He regularly sees the image of his "dead" wife. And why is he so mad at his gentle brother (Gunnar Möller)? When the two old guys get into a fistfight, it turns into a laughing-out-aloud comedy.
This tale of family secrets being slowly unveiled waves constantly between mystery-drama, love-story and comedy, and in-between offers relaxing entertainment by Katja Riemann singing her ballads or Barbara Sukowa showing her talent as a serious singer. (Birgit Schrumpf)