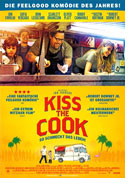 Kiss the Cook (Chef)
U.S.A. 2014
Opening 28 May 2015
Directed by: Jon Favreau
Writing credits: Jon Favreau
Principal actors: Jon Favreau, Robert Downey Jr., Scarlett Johansson, John Leguizamo, Bobby Cannavale
A feel good, family film: Jon Favreau has it all here, and he manages not only to write the script and direct, but to impress in the leading role of Carl Casper, as well.
Carl is the head cook of Gauloises, a trendy Los Angeles restaurant. His great talent is the creation of new recipes, a talent not appreciated by Riva, the owner of the restaurant. This inflexible fool (perfectly played by Dustin Hoffman) insists on the same-old menu, when famous food critic Ramsey Michel comes for lunch. Michel's unfavorable online review sets off an avalanche of tweets and emails. There is a second visit; this time it ends in a loud, insulting, argument and then a fist fight. Carl storms out to face a new future.
Sometimes a forced decision to pick up the pieces and start anew is all that it takes to make a good film. Carl and his friend Martin, who also quit his own job as sous chef in the restaurant, travel to Florida and meet up with Carl's 10-year-old son Percy, as well as ex-wife Inez, who is visiting her rich boyfriend Marvin. Nice-guy Marvin gives Carl an old trailer, which he and Martin fix up and turn into a Food Truck called El Jefe. He specializes in Cuban grilled sandwiches.
Here the film turns into a road movie from Florida back to California. Percy, on school holiday, joins the group for some good, old-fashioned, father-bonding exercises over the hot grill. The actual sites become interesting: Little Havana in Miami, the Marigny Quarter in New Orleans, The Franklin Barbecue and Guero's Taco Bar in Austin. Percy is the self-appointed PR manager, announcing their arrival via internet, so that soon big crowds line up for good food.
The film offers interaction between divorced parents and a child, male friendship, a flirt with a co-worker Molly (Scarlett Johansson), determination, reward, as well as delicious-looking food. Don't go on an empty stomach. Even the simple toasted cheese sandwich will make you drool. The music (26 songs) fits in at the right places; the high-caliber cast, even for small roles, is extremely suitable. And you'll learn a new use for corn flour.
The topic is especially interesting in Germany, because, for the last two years, the Berlinale film festival, with its cinematic emphasis on food, has invited many such Food Trucks to line up in front of the main festival cinema. This year, 2015, the annual three-day Hamburg Harbor birthday celebrations featured Food Trucks. (Becky Tan)