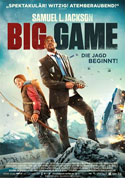 Opening 18 Jun 2015
Directed by: Jalmari Helander
Writing credits: Jalmari Helander
Principal actors: Samuel L. Jackson, Onni Tommila, Ray Stevenson, Victor Garber, Mehmet Kurtulus
Oskari is 13 and lives in Finland among men who have passed their test of manhood by having lived alone in the woods with just a bow and arrow and successfully shot a deer. Oskari now stands before this test, although the clansmen and, even his father, doubt that he will be successful.
Simultaneously, US Air Force One flies over the area, carrying the President of the United States to a conference in Helsinki. Evil men below, led by a Jordanian named Hazar, shoot high-powered weapons at the plane, and it's every man for himself. Morris, head of this U.S. contingent, shoves the president into a capsule and releases it via parachute to earth before the plane goes down.
Thus do the president and Oskari meet in the woods. Oskari refuses to be distracted from his goal and is therefore unreceptive to suggestions for finding a way out. The two roam around and become friends. Morris also lands safely and shows his real colors by meeting up with Hazar to finalize an unfinished job: namely, the end of the president. Meanwhile, back at the Pentagon, the head of the CIA, the vice-president, and the US army general have been observing the disaster via satellite. They call in Herbert, another CIA agent, who immediately pronounces that the culprit must have been an insider on the plane.
We go back and forth between the groups, watch them clash, shudder at the dangers that face Oskari and cheer when he brings home the biggest trophy in the woods. Oskari is played by Onni Tommila, who is the teenaged nephew of director Jalmari Helander. He is a fine actor, but looks absolutely nothing like any man in the entire Finnish clan, including his own supposed father. We lose credibility here. Samuel L. Jackson is also an experienced actor, who can easily play an African-American president with extremely low popularity ratings (no reference to living persons intended).
Big Game was shot entirely at the Bavaria Film Studio and on the mountainsides of Bavaria up to the Zugspitze, 2,912 meters above sea level. Director Helander said that the "fascination of Big Game is in the great contrast between life in the rugged woods and the modern civilized world" and that "even the most powerful man in the world is sometimes afraid." It's youthful innocence against adult greed. The film will be equally enjoyable for parents and children and may provide a topic of conversation afterwards. (Becky Tan)