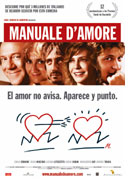 Handbuch der Liebe (Manual of Love, Manuale d'amore)
Italy 2005
Opening 13 Apr 2006
Directed by: Giovanni Veronesi
Writing credits: Vincenzo Cerami, Ugo Chiti
Principal actors: Carlo Verdone, Luciana Littizzetto, Silvio Muccino, Sergio Rubini, Margherita Buy
Finally something fun and entertaining! Four stories overlap and intertwine to make up this delightful romantic comedy about the everyday pitfalls of love.
Young, carefree and still on the dole from his parents, Tommaso (Silvio Muccino) meets Giulia (Jasmine Trinca) while cruising around on his roommate's moped. She uses every trick she knows to blow him off. Will he ever get the hint?
Barbara (Margherita Buy) has dragged Marco (Sergio Rubini) on a tropical vacation to put some spark back into their on-the-rocks relationship. The fire-eating Polynesian dancers didn't help - maybe a baby will fix things?
Traffic cop Ornella (Luciana Littizzetto) discovers her husband is having an affair, and, tempted by the fun of revenge, must decide if the price forgiveness is too high to save her marriage.
Goffredo (Carlo Verdone) is a pediatrician longing for children of his own but abandoned by his wife. A failed attempt at a one-night-stand with his nurse leaves him spending the night half-naked outside on the ledge to contemplate things. Is there someone out there for him?
The book within the movie, The Manual of Love, may not have any practical advice for any of these situations, but it nevertheless manages to bring these characters together in a witty and charming way.
Laugh-out-loud funny and tender, this is a great date movie! (Alyssa Cirelli)