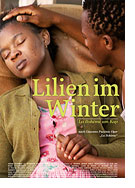 Lilien im Winter - La Bohème am Kap (Breathe Umphefumlo)
South Africa/Germany/U.K. 2015
Opening 27 Aug 2015
Directed by: Mark Dornford-May
Writing credits: Luigi Illica, Giuseppe Giacosa, Pauline Malefane, Mark Dornford-May
Principal actors: Noluthando Boqwana, Zamile Gantana, Sifiso Lupuzi, Pauline Malefane, Zebulon Mmusi
Lilien im Winter (original: Breathe Umphefumio) is Mark Dornford-May's second musical film. He is a well-known English opera and theatre director working in South Africa. In 2005 he presented a film version of George Bizet's opera Carmen (original: U-Carmen eKhayelitsha) at the Berlinale Festival for which he received much praise and was awarded the Golden Bear.
For his second opera film he had chosen Giacomo Puccini's La Bohème, which he adapted for the screen together with Pauline Malefane. The setting of the 1830s Paris has been changed to the township Khayelitsha near Cape Town. It is today's South Africa with local black actors and singers. Puccini's music is mixed with typical African instruments adding an authentic touch. When Mimi asked her neighbor Lungelo for a light, the two young people feel attracted to each other and their love story begins. There is much fooling around with their three friends; all are poor but are trying to have fun. The girl's constant coughing soon overshadows the love affair which culminates in the sad theme of one of Puccini's most famous romantic arias. The timeless story deals with the realities of the world's poor, their struggle for food, the constant fear of losing one's home, the lack of medicine for the sick. With tuberculosis on the rise in South Africa director Dornford-May wanted to bring this struggle to the screen.
La Bohème was the first opera I saw at the age of 14 years and I had tears in my eyes when the frail heroine slowly died of tuberculosis. Unfortunately, this film did not touch me emotionally, nor did I enjoy the singing very much, with very few exceptions. But the atmosphere of the New South Africa felt very real with comical scenes and even some satirical hints at the frequent power cuts or the casual stealing out of the kitty.
But nevertheless, the well-meant message of the fight against TB might have stirred awareness and given thought for reflection. The World Health Organization said 482,000 of South Africa's 50 million people contracted TB every year, and it was the leading cause of death. This is worldwide the third highest number after India and China, and has increased by 400% over the past 15 years. (Birgit Schrumpf)