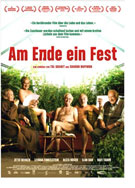 Am Ende ein Fest (The Farewell Party, Mita Tova)
Israel/Germany 2014
Opening 24 Sep 2015
Directed by: Sharon Maymon
Writing credits: Sharon Maymon, Tal Granit
Principal actors: Ze'ev Revach, Levana Finkelstein, Aliza Rosen, Llan Dar, Rafi Tabor
For the five senior protagonists - all in their 70s - life still holds plenty of challenges and unforeseen excitement. You would not expect this in a retirement home in Jerusalem.
The old lady slowly shuffles to the telephone. It is God speaking with an echo in his voice telling her to be patient and not give up. Her time has not come yet as there is no space available in heaven. She has her doubts wanting to talk to him again by pushing the automatic call-back button. "God is on the toilet", is the laconic answer by Levana, the wife of 72-year old Yehezkel aka God. When their friend Max is terminally ill, his wife Yana cannot bear watching his suffering any longer. In desperation she asks her friends for help to end this torture. No one is morally able to assist in this request. But Yehezkel, a typical hobby handyman who is always trying out new gadgets, has an idea for a suicide-machine. They enlist Dr. Daniel, the retired veterinarian, and his police friend Rafi for the project. After Max's funeral the gossip and rumors start. Yana and her friends are approached by total strangers begging them for assistance to die in dignity. How will they handle these requests? Life becomes stressful. Soon Yehezkel has to make his own sad decisions when it becomes obvious that his wife Levana is suffering from Alzheimer.
This serious theme is handled with refreshing humor. All five stars are well-established actors giving a skillful performance of subtle comic. When Rafi is discovered stark-naked in Dr. Daniels wardrobe it develops into a "coming out" story, very touching and very funny but never coarse and heavy-handed. When the friends resolutely and straight-faced march down the corridor towards their next suicide task they act like they are the "A-Team". There is mischief, sadness, self-irony and laughter. It is a pleasure to watch the good-humored slapstick always giving room for warm-hearted feelings without slipping into sentimentality.
You could call the film a melancholy comedy. It is a comedy with a serious background inviting the viewer for reflection on a taboo theme that has long been suppressed in our society. With improved medical progress the focus on an aging population will increase and so will the controversial discussions about euthanasia and the dignity of the elderly.
For Am Ende ein Fest (The Farewell Party) the two Israeli directors/writers Sharon Maymon and Tal Granit received the Audience Prize at the Film Festival in Venice. (Birgit Schrumpf) (Birgit Schrumpf)