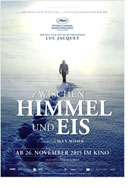 Zwischen Himmel und Eis (Ice and Sky, La glace et le ciel)
France 2015
Opening 26 Nov 2015
Directed by: Luc Jaquet
Writing credits: Luc Jaquet
Principal actors: Claude Lorius, Max Moor
This is more than just a documentary about global warming, this is an homage to Claude Lorius, a French polar scientist who has spent altogether ten years of his working life in Antarctica. He was one of the first people to study the ice and proved that the Earth was heating up. Now he is 83 years old and we follow his career from a young adventurer to an internationally honored scientist. It all started when he answered an advert to spend a year in Antarctica. He was only 23 years old and it kindled a lifelong passion. He lived and worked through the dark winter months together with two men in a small hut dug into the ice. During this time he learned to appreciate the camaraderie, endurance and patience that are needed to survive in such a harsh environment. It was the beginning of many more expeditions. 
His life unfolds as fascinating as a detective story coming alive with hitherto unpublished archive material showing his team in a blinding blizzard or struggling with the heavy truck stuck in this unforgiving environment. There is no way out of the "white hell" and the scientists have to turn handymen and adventurers when it comes to digging your way through the ice.
One exciting incident shows how an air bubble enclosed in the ice cube floating in the whisky glass suddenly inspires a new idea in the men during a relaxing evening in their hut. This air had been preserved for hundreds of years. After analyzing it, unexpected scientific information was gained. But more often it was hours of core-drilling and hard manual labour. It took many years to be able to drill 3,600 m into the ice resulting in recovering 800,000 years' information on our climatic conditions. This had never been possible before and enabled the polar scientists to reconstruct the influence our civilization has on the environment. Any atomic experiment under water anywhere in the world left their mark in the atmosphere and is preserved in layers of snow.
The well-known TV commentator Max Moor acts as the German narrator while Stéphane Martin's camera sweeps over an awe-inspiring landscape of snow, ice and naked rocks. Director Luc Jacquet (Oscar Award: Journey of the Penguins), who himself is an experienced Arctic scientist, took the frail but determined Claude Lorius on this journey half around the globe. We see him standing on a cliff overlooking the melting ice glacier. The icy landscape still holds his fascination and he speaks of a life fulfilled, working with dedicated people of all nationalities driven by an enquiring mind. One of his greatest triumphs was achieved working together with the Russian team in the middle of the Cold War. Politics played no part with these men. His thoughts and praise go to his colleagues.
This documentary is informative as well as visually stunning with an icy world under a blue sky stretching to the horizon and beyond. To realize what hardships and problems Claude Lorius had to face before the scope of his research was fully recognized left me full of admiration for this humble man whose findings helped to understand the ecosystem of our Earth. (Birgit Schrumpf) (Birgit Schrumpf)