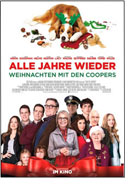 Alle Jahre wieder - Weihnachten mit den Coopers (Love, The Coopers)
U.S.A. 2015
Opening 3 Dec 2015
Directed by: Jessie Nelson
Writing credits: Steven Rogers
Principal actors: Olivia Wilde, Amanda Seyfried, Marisa Tomei, Diane Keaton, John Goodman
The Coopers are your average Hollywood-imagined dysfunctional family who all come together for Christmas. Charlotte (Diane Keaton) and Sam (John Goodman) are separating after growing apart, but plan to keep it a secret until after the holidays. Their son Hank (Ed Helms) is a divorced, unemployed photographer with three children. His son Charlie (Timothee Chalamet) is falling in love for the first time. Charlotte and Sam's other child is Eleanor (Olivia Wilde), a perpetually single ice princess who decides to bring home a soldier she meets at the airport to avoid the disappointed looks of her mother. In addition, Alan Arkin plays the plucky grandfather Bucky who has an oddly close relationship with a young diner waitress Ruby (Amanda Seyfried) and Marisa Tomei does a turn as Charlotte's estranged, shoplifting sister.
If that seems like an overwhelming amount of characters for a romantic comedy, then you would be correct. Ever since the enormous success of Love, Actually (2003), the romantic comedy genre has been besieged by ensemble cast copycats such as Valentine's Day (2010) and He's Just Not That into You (2009). Love the Coopers is just another unfortunate byproduct of this popular trend and it suffers from all of the same weaknesses. By having such a large ensemble cast, neither the characters nor their romantic interests are developed enough to be truly compelling. Charlotte and Sam's relationship turns almost farcically stereotypical with Charlotte being overly attached to her children and Sam yearning for traveling and something more. The most traditionally rom-com relationship in the film is between Eleanor and her soldier airport stranger Joe, perhaps because the most time is spent on this relationship. Unfortunately, it becomes more ridiculous the longer it goes on if only because there seems to have been so little time spent on allowing the audience's feelings grow with the characters' own. This is a common theme throughout the film and what it leaves is a distinct feeling of dissatisfaction.
That is not to say there aren't plenty of charming moments throughout Love the Coopers, but that almost makes the whole mess of a movie worse, because its potential is so apparent. There are several laugh-out-loud moments, but unfortunately these are spaced between those that are unbelievably awkward or simply out-of-touch. Most obviously this occurs whenever the film utilizes the Wes Anderson style of surreal self-awareness. It just doesn't fit and the ending in particular deserves an eye roll.
Love the Coopers will likely not be anyone's favorite movie, nor is it worth going to the cinema to watch. However, there is perhaps a place for it on a cold winter's night while lounging on your couch. Or better yet, pick a better, tried-and-true romantic comedy instead and have a much more enjoyable experience.  (Rose Finlay)