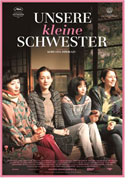 Unsere kleine Schwester (Our Little Sister, Umimachi Diary)
Japan 2015
Opening 17 Dec 2015
Directed by: Hirokazu Kore-Eda
Writing credits: Hirokazu Kore-Eda, Akimi Yoshida
Principal actors: Haruka Ayase, Masami Nagasawa, Kaho , Suzu Hirose
Three sisters stay on in their family home, a slightly run-down traditional Japanese house in the village of Kamakura near Tokyo. When they hear of their father's death the sisters reluctantly travel to his funeral, although they have had no contact with him for many years after he left their home. Here they meet their teenage half-sister Suzu (Hirose), who is now completely orphaned.  Spontaneously the oldest sister Sachi (Ayase) invites Suzu to make her home with her three half-sisters.
The four siblings are Little Women Japanese-style (the Japanese title Umimachi Diary means small-town diary, and was a successful manga series). There is the oldest sister (wise, caring, gentle etc.), the chaotic tomboy sister who wolfs down her cereal and never grows up, the sister on the brink of maturity starting her first regular office job and the insecure youngest sister, a shy 14-year-old. The wounds of parental abandonment have not healed for any of them, and occasionally resurface. With the passing of time together in the village the pain recedes and the family grows together.
There is serenity and beauty in the landscape of Kamakura and in the faces of the sisters. The daily routines seem so far removed from busy Western culture. In this film there are no conflicts to speak of at all, only choices to be made whose outcome seems clear from the beginning. The girls spend hours chatting and cooking together, digging up jars of ancient plum wine in the cellar, steaming algae to put on fresh bread, eating the specialties of the local restaurant stand, looking at photos. With every dish and every tradition they recall special things about people they remember from the past, and lay a small monument for the future. 
This is a modest little gem of a film, worth enjoying alone for the breathtaking view of the cherry blossoms seen on a bike ride through Kamakura. (Ann Gebauer-Thompson) (Ann Gebauer-Thompson)