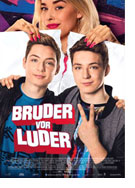 Opening 24 Dec 2015
Directed by: Tomas Erhart
Writing credits: Alexander Dydyna
Principal actors: Heiko Lochmann, Roman Lochmann, Milena Tscharntke, Tara Fischer, Dagi Bee
Heiko and Roman Lochmann are 16-year-old German twin brothers. Roman started his career at age 10 when he won a casting show called Kiddy Contest in 2009. Two years later in 2011 the young brothers began a regular YouTube production which now appears every Saturday and has more than 1.5 million subscribers and 4 million clicks. They sing their own original songs as well as parody other compositions and perform comedy. Now at age 16 with four years of highly professional performance and theater experiences on their plate, it is either burn out or take the next step, which would be a film. Here it is.
The brothers appear as "Heiko" and "Roman" who are preparing to go on concert tour. They hand out flyers to fans, including Jessy, a blond girl with high aspirations. She believes that she can latch onto the brothers and use their popularity for her own publicity. Sure enough: Heiko finds her simple, shy beauty (all an act of course) to his liking and falls hard. He is so obsessed with planning a future together, that he neglects preparations for the concert to the frustration of his brother Roman. Roman plays tricks on Heiko to make him look bad in the eyes of his girlfriend, to no avail. At the same time Roman must push Jessy's handicapped sister Belle around in her wheel chair.
There are actually two parallel stories. First there are the twins preparing for a concert. Then there are Jessy and Belle. Their parents have died in an accident and the two girls live in a rich neighborhood in a fancy house. Belle must pretend to be retarded and lame, so that Jessy can officially take over the responsibility and all the advantages, e.g., monthly payments, etc. When the social worker arrives to check up on them, that they jump into their roles of sweet older sister caring for hard-up younger sister. In reality Jessy is a real bitch, if I may use that word. She lords it over Belle, not even allowing her to play songs on the deceased mother's guitar. Two friends support Jessy in this general nastiness.
The real Heiko and Roman Lochmann spent two months acting and directing (with Tomas Erhart), not an easy job considering that they also attended school. No matter that the storyline is rather insignificant; this is a chance to see new, young actors, especially Milena Tscharntke and Tara Fischer as the sisters, and also well-known professional Oliver Pocher, who steals the show as the pool attendant. Teenagers will love it regardless. The idea is to get the twins into the movies and into the minds of everyone (like myself) who had never heard of them. Their original songs are on the film soundtrack. Definitely look up "DieLochis" on YouTube for a taste of what to expect. (Becky Tan)