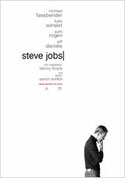 Opening 12 Nov 2015
Directed by: Danny Boyle
Writing credits: Aaron Sorkin, Walter Isaacson
Principal actors: Michael Fassbender, Kate Winslet, Seth Rogen, Jeff Daniels, Michael Stuhlbarg
I confess. I am an Apple junkie and love their products. Steve Jobs, the person, though would not be someone I would have wanted to know. This movie only confirmed what I already believed, but it did so with fabulous storytelling, terrific acting and intelligent directing. The script managed to portray Steve Jobs' (another amazing performance by German born Michael Fassbender) tyrannical egotism during the years represented (the film begins with the launch of the Macintosh in 1984 and ends with the launch of the iMac in 1998) with such depth, even though it touched very briefly on certain aspects of his idiosyncrasies.
Utilizing a three-act format, writer Aaron Sorkin created a portrait of this complicated man, as well as the people surrounding him. Some may argue that this theatrical device was blatantly artificial, but I felt it provided a way to see how he had changed over time (and not just in appearance). This method also provided an opportunity to create a redemptive arc for Jobs' character, without which no one would have been satisfied. The final scene with his daughter Lisa (Perla Haney-Jardine) though did seem a bit forced and didn't quite ring true.
Jobs' scenes with his father figure, Apple CEO John Sculley (Jeff Daniels) are wonderfully edited with frenetic splicing providing just enough exposition. As Joanna Hoffman, Jobs' "Work Wife," Kate Winslet is initially unrecognizable, proving once again just why she is an Oscar darling. Michael Stuhlbarg, as Andy Hertzfeld, is nerdy and needy enough and one can understand why, despite Jobs' treatment of him, he continues to hang around. Jobs' condescension to his Apple partner Steve Wozniak (Seth Rogan, another brilliant member of this ensemble cast), is painful to watch, and the final confrontation makes so much sense.
It is a rare film where the credits even have me fascinated. I had to try the "Talk to Text" function when I got home on my iPhone. (Laura Langford)