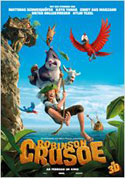 Opening 4 Feb 2016
Directed by: Vincent Kesteloot
Writing credits: Lee Christopher, Domonic Paris, Graham Welldon
Principal actors: Ilka Bessin, Dieter Hallervorden, Matthias Schweighöfer, Aylin Tezel, Kaya Yanar
If you think this animation will be a replacement for the classic film by Mexican film director Luis Buñuel which won an Oscar, you have already sunk your ship. Here is an animation film that is also sea miles away from the original book of Robinson Crusoe by Daniel Defoe in 1719. What is left from the original story is Robinson, who is actually takes a side step to a menagerie of fun-loving, and an exotic combination, of animals. The island exists with the remains of a ship wreck and Crusoe's dog, which dies very early on in the film. The story sets a very straight course with Robinson Crusoe, who is aboard a ship, and we learn very quickly that he is a fish out of water and is trying to protect the livestock on board from two pirate cats. A storm hits and everyone is missing with the exception of Robinson, his dog and these cats. He soon befriends a wild bunch of animals who basically give him hints on how to survive on this island.
The music is fun and the animals are adorable. This is a great film for children under the age of six and has all the right elements of a good old fashioned animation, which will appeal to every child worldwide. (Shelly Schoeneshoefer)


Second Opinion

Robinson Crusoe is a skinny young man on a ship, which he shares with his dog Edgar, along with pirates and their extraordinarily mean cats Ping and Pong. The ship crashes in a storm; Crusoe and Edgar survive on a nearby island. Cheerful animals on this heavenly island, who celebrate a beach party every day, are Dienstag (Tuesday) the parrot, Rosie the tapir, Zottel the mountain goat, Epi the hedgehog, as well as Carmello and Pango, a chameleon and pangolin. All are cheerful, although Dienstag is a bit disgruntled. He suspects that there is a world out there, full of adventures, which he is missing, and he wants to investigate. By doing so, he discovers Crusoe and manages to communicate. In this way he can calm the anxious animals which, having never seen a human before, sense danger. Soon Crusoe is part of the group and teaches them to build a tree house with "running" water, and plant and harvest food. All is well until suddenly actual danger does arise – not in human, but in cat, form. Ping and Pong have survived on neighboring Cursed Island. They have a huge litter of 16 kittens and are on the prowl for a better home with enough food for all, which brings them face to face with the good-natured animals which must defend themselves.
Producer Ben Stassen said that this is the first time that the traditional story of Daniel Defoe's classic Robinson Crusoe book of 1719 has appeared as an animated film. Here, Robinson plays a supporting part; the animals are the stars and tell the story from their viewpoints. Director Vincent Kesteloot said that it was important that the animals keep their inherent characteristics; they don't become four-legged humans, although they speak the same language. The excellent music by Ramin Djawadi adds to the enjoyment, as does the 3D. Djawadi did not begin composing until he had the finished film in front of him.
I definitely recommend this very enjoyable Crusoe for the whole family, even if your local version is in German. Your children will understand and the speakers are all well-known German actors. (Becky Tan)