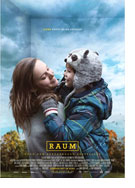 Opening 17 Mar 2016
Directed by: Lenny Abrahamson
Writing credits: Emma Donoghue
Principal actors: Brie Larson, Jacob Tremblay, Sean Bridgers, Wendy Crewson, Sandy McMaster
Joy (Brie Larson) has been kidnapped as a teenager, sexually abused and gotten pregnant in captivity. She has been cut off from any contact to the outside and is confined to one windowless room with her now five-year-old son Jack (Jacob Tremblay). Though the film doesn't lack suspense, this isn't a crime thriller. It is a moving and inspiring story about parenting but also about 'reality' and 'perception', told from the child's perspective, with Oscar®-worthy performances, script (Emma Donoghue) and direction (Lenny Abrahamson).
With maturity beyond her age, Joy has been able to spare Jack the nightmare that she lives every day and created a nurturing environment that not only is his whole world; he believes this is the world. She established a remarkable trust between them and taught him love and mindfulness for his surroundings by referring to each object without an adjective as if it was a given name: 'Chair', 'Sink', 'Bed', 'TV' or 'Room'. When he starts acting up and questioning their situation, Joy realizes that they won't be able to go on like this much longer and devises a plan to break free. (Carola A)


Second Opinion

"Good morning table, good morning chair," these are Jack's first words after waking up and walking through his home, a room of nine square meters, where he lives with his young mother. It is his birthday. Jack is now five years old and feels quite grown up; his questions about life are getting more inquisitive. He has never been outside this room and believes that the people on television are not real but are only characters like in his fairytale books. At night he has to disappear into a cupboard because Old Nick comes to visit and needs to lay in the bed with Mom. Despite this, Jack has developed into a pleasant and well-balanced boy.
Joy was a teenager of 17 years when Nick kidnapped her seven years ago, hiding her in his shed in a corner of his garden. Five years ago she gave birth to Jack. It is heart-rending to see how lovingly but at the same time how disciplined she educates her son under these claustrophobic circumstances. Only a small window in the ceiling lets in some daylight. Lately Nick's behavior becomes more aggressive during his visits, and Joy is afraid for Jack's safety. It also gets difficult to keep the truth from her son's enquiring mind. Gently, she starts telling him that there is a "real" world outside. She once tried unsuccessfully to escape her prison. Now she is adamant to get at least Jack out of this hole so that he might have a chance of leading a normal life. She does not shy away from taking drastic measures. Her plan is so daring that I am holding my breath. The little boy has to be rolled into the carpet. He is very frightened but still tries to memorize the instructions: "unrolling, traffic light stop, jump - and run!" Will it work getting him off the premises with the truck, could he cope with the unfamiliar world outside the room?
In the second part of this emotional drama the "outside world" has to be faced. The media hype and an overwhelming family are a challenge. No wonder, Joy is confused; her strength is suddenly spent. She now has to concentrate on a different kind of freedom for herself and her son.
Oscar-winning Brie Larson cannot be praised enough for her leading role as Joy. She changes from a strong-willed, loving mother into a troubled and helpless young woman. The talented Jacob Tremblay is playing his role as little Jack amazingly nuanced. Some scenes are very touching without slipping into sentimentality.
Director Leonard Abrahamson based his film on Emma Donoghue's successful novel for which she also wrote the screenplay. It is not just a story about a mother-son relationship but leaves room for some lingering questions: what are our real needs in life or what is necessary in order to survive with dignity. (Birgit Schrumpf)