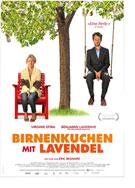 Birnenkuchen mit Lavendel (Le Goût des Merveilles)
France 2015
Opening 10 Mar 2016
Directed by: Éric Besnard
Writing credits: Éric Besnard
Principal actors: Virginie Efira, Benjamin Lavernhe, Hervé Pierre
Ah, Provence. Orchards, fields of lavender, local markets, rustic kitchens. It's all there in this film, filmed entirely in the village of Nyon in the Rhône-Alpes region. Louise (Efira), recently widowed mother of two, runs a traditional orchard farm all on her own. However, her lack of prospects and cash is rapidly forcing her into bankruptcy.
On market day, after a couple of drinks at the bar and a reckless drive home, she collides with Pierre (Lavernhe) in the road outside her home. Pierre is at first a mystery: he refuses to leave, sorts out her kitchen, tastes the homemade cake, and inspects the pear trees. Gradually this gentle man becomes a part of Louise's life, and a love story develops between the two.
I was expecting the worst, an Asperger character whose eccentric ticks and quirks dominate the story, and then I was wonderfully surprised. Lavernhe is a theater actor at the Comédie Française, and his Pierre is sweet, a subtle and a genuinely lovable character. Efira's Louise seems ordinary in comparison, but her fighting spirit and her down-to-earth qualities makes her a good foil to Pierre. The rest of the family and the local bookseller Jules (Pierre) make up a cozy circle of locals I felt I had known forever.
This is a very pleasant way to spend a chilly day while waiting for the fruit trees to blossom. (Ann Gebauer-Thompson)