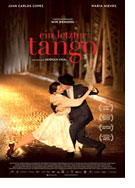 Ein Letzter Tango (Our Last Tango, Un tango más)
Argentina/Germany 2015
Opening 7 Apr 2016
Directed by: German Kral
Writing credits: German Kral
Principal actors: Johana Copes, Juan Carlos Copes, Alejandra Gutty, María Nieves Rego, Juan Malizia
Maria Nieves and Juan Carlos Copes are legendary Argentine tango performers. Together with Astor Piazzolla they introduced the Argentine tango and milonga to the United States 50 years ago, and as a dancing couple they have set milestones in tango performance.
This film traces their very humble beginnings as self-taught teenagers in a milonga, follows their jagged emotional relationship and the disintegration of their marriage as they rose to fame, and conducts interviews today to record their current perspective on the years together. Now separate for more than a decade, they review the love-hate relationship that powered their performances during those years. Each of them is appreciative of how together they achieved greatness, but they are bitter, melancholy and contradictory when they review their personal relationship.
Constructing a kind of embellished documentary, Kral makes use professional Argentine tango couples to depict the early passionate years, the middle years of fame, and the hate-filled years of separation and artistic perfection. I found this technique to be unnerving at first, as the couples bear very little resemblance to the unique originals, and each couple is quite different from the one that follows. But I got used to the constant change of perspective and fragmentation of their history. Somehow it was like the tango itself: a lead, a kick, a spin, a stop, a reverse.
Nieves and Copes comment on their history in interspersed, occasionally acrid interviews. Each has his own life now: Copes is content in a long-term marriage and performs professionally with his daughter; he comments that passion for the tango still carries him through his performances despite physical disability. Nieves in contrast is filmed sitting alone in her silent apartment, chain smoking, regretting never having had children.
The fantastic soundtrack was arranged by Luis Borda and the composer Gerd Baumann and performed by Sexteto Mayor.
Tango enthusiasts should put this film on the must-see list. (Ann Gebauer-Thompson)


Second Opinion

In this beautiful documentary, the most famous tango dancers of all time, María Nieves and Juan Carlos Copes, now in their 80s, reflect on a lifetime of dancing and passion – for the tango and, once upon a time, for each other. They met as teenagers in a dance hall in Buenos Aires in 1948 and danced together for 50 years, becoming internationally renowned superstars. Despite their marriage ending in the 1970s, they continued to dance together and, in María´s case, put love of tango ahead of a broken heart.
Director German Kral tells much of the story through tango itself, with dancers in the roles of young María and Juan Carlos performing new works choreographed for the film. These dance sequences are lushly filmed, with lovingly detailed and imaginative sets and costumes that transport us back to Buenos Aires in the 1950s and capture the sensual allure of tango.
Throughout the film the younger dancers – rather than the director – interview María and Juan Carlos, which makes the movie feel like a rich collaborative work of art. Much of the personal story behind the professional partnership is revealed through María laying bare her disappointments (at never having had children, at finding herself alone in her 80s) and passionately defending her choice to devote her life to her art. The film gives her well-deserved attention as an equal part of an artistic team, rather than merely as Juan Carlos´ muse (he describes their teenage meeting as having found his Stradivarius). In telling this one story, Our Last Tango draws attention more universally to the sacrifices women historically have made in order to dedicate themselves to art.
In one of the last dance sequences of the film, María and each of the three dancers who have played a younger version of her, appear on a stage together. One by one the women begin to dance, and at first it appears each is alone on stage, somehow managing to dance a partner dance solo. Slowly one makes out the silhouette of a male partner, clad entirely in a black cat suit, which obscures him completely and allows the focus to be on his female partner. This beautifully poetic choreography allows María one of her well-deserved moments of solo glory, perfectly capturing the magic of the film. (Diana Schnelle)