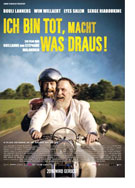 Ich bin tot, macht was draus! (I'm Dead But I Have Friends, Je sui mort mais j'ai des amis)
Belgium/France 2015
Opening 28 Apr 2016
Directed by: Guillaume Malandrin, Stéphane Malandrin
Writing credits: Guillaume Malandrin, Stéphane Malandrin
Principal actors: Bouli Lanners, Wim Willaert, Serge Riaboukine, Jacky Lambert
Retirement is not on their mind. The aging bearded rockers of the Belgian band "Grand Ours" have been invited to perform in Los Angeles. This might be their big chance. Too bad that their lead singer Jipé fell into a deep ditch – and now he is dead. No reason to stay home and feel sad: "Rock'n Roll will never die"! The tickets are booked and the remaining members start out on their trip. With a spectacular stunt they steal the urn with the ashes of their beloved Jipé. For the flight over the Atlantic the ashes are transferred into plastic bags and declared as Tandoori spices to the customs personnel. Quite funny.
One mishap after the other follows. The airplane needs to be repaired, one band member is running away to catch a train, followed by the others. Danny, who was Jipé's secret lover, a homosexual soldier, jumps on as well. What a surprise, they are sitting in a train traveling to the far north instead of going southwards. They land in Inuit country – in other words, at the end of the world, 900 kilometers east of Montreal, Canada. There is enough time to get onto each other's throat or to get drunk, or to be sentimental and to exchange a few secrets with each other. After all, they are all friends mourning the loss of a friend.
This black comedy is a bizarre road movie. It is an uneven mix of shrill humor, melancholic sentiment of friendship, silly gags, hammering electric guitars and beer-drinking pals. It might lend itself for a "guys' night out" movie/DVD.