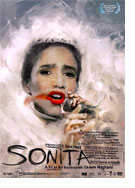 Opening 26 May 2016
Directed by: Rokhsareh Ghaemmaghami
Writing credits:
Principal actors: Sonita Alizadeh, Rokhsareh Ghaemmaghami
Sonita is an 18-year-old girl from Afghanistan. She lives with a family in Iran and earns her keep caring for the children. Her mother and four siblings remain in Afghanistan. Sonita dreams of becoming a famous rapper, singing her own songs about forced marriages and zero rights for women. Female solo singers are forbidden in Iran and definitely do not appear on YouTube, also Sonita's dream. Throughout her 11 years growing up in Iran, she seeks advice and support from a charity group, which specifically helps women. She finally finds a studio which is willing to record her song (also illegal).
At the same time her mother requests that Sonita return to Afghanistan for an arranged marriage. She will be "sold" to an unknown groom for $9000, the sum needed to finance her own brother's marriage to a local girl. At this point she is discovered by Iranian director Rokhsareh Ghaem Maghami (also a woman), who films Sonita over the next three years. Maghami could donate some financial support so that Sonita's mother could drop these crazy marriage plans, but what moral right does Maghami have to intervene in Sonita's life – a dilemma.
This well-made film is the perfect model for achieving goals under difficult circumstances. Praise goes to Maghami for recognizing a worthwhile story and for excellent editing that holds the viewer in anticipation of the next step. It turns especially tense when Sonita returns to Afghanistan to sort out her future. Singer Mohammed Assaf, who started his career as winner of the Arab Idol music contest, said, "Believe in yourself until someone helps you." This is exactly what Sonita did, although her obstacles were a thousand-fold more difficult than his. The film features three of her original compositions.
Sonita won first prize at Sundance (2016), as well as audience prizes at Sundance and again in Amsterdam. Today Sonita is a figurehead for the Strongheart Group which works to raise awareness about child marriage in order to change legislation. (Becky Tan)