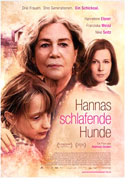 Opening 9 Jun 2016
Directed by: Andreas Gruber
Writing credits: Andreas Gruber, Elisabeth Escher
Principal actors: Hannelore Elsner, Franziska Weisz, Nike Seitz, Reiner Egger, Christian Wolff
This film is unnerving to say the least. The opening is promising enough: twelve-year-old Hanna (Seitz) is standing in a corner of her house with the sun shining on her fair hair, and she sings the German folk song 'kein schöner Land in dieser Zeit' in the sweetest of voices. It is 1967 in Wels, Austria, in a working-class housing settlement. We should be forewarned.
From this moment on things get more and more grotesque. The Hausmeister smiles a crooked smile as he gasses the moles in the lawn. Grandmother Ruth (Elsner), who is blind, makes a habit of taking Hanna to stand on the railway tracks to listen to the freight trains roaring past at arm's length. Teachers and the pastor of the Catholic school insinuate that Hanna's family do not belong and flaunt their Nazi bearings openly. Hanna is coerced by her religion teacher into attending a Sudetendeutsch ceremony where the Horst Wessel song is performed. Neighbors ignore and insult Hanna and her family, and Hanna is threatened by pedophiles in several horrific incidents.
We discover that Hanna's mother and grandmother are Jewish, and these two were only able to survive the war under an assumed identity. I assumed that 20 years after the war their fighting spirit, anger or whatever would have been aroused. Wrong assumption.
It was hard to watch two hours of Hanna-bashing on all fronts, and while I was gritting my teeth I wondered why Hanna's family didn't support her in any way whatsoever. Hanna's mother (Weisz) is a traumatized character who spends the better part of the film staring sullenly and silently into the corner. I thought it was poor acting and ended up straining any sympathy I had for her character. Hannelore Elsner's empathetic grandmother ends up being the only non-passive performance of the family members. Although her character is believable and she finally takes steps to end the family's stagnation it is far too little and too late for any kind of satisfying dramatic resolution. (Ann Gebauer-Thompson)