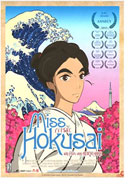 Opening 16 Jun 2016
Directed by: Keiichi Hara
Writing credits: Miho Maruo
Principal actors: Animation
In this animated film we find O-Ei, an older daughter of the artist Hokusai, living with her father in a messy atelier in crowded 19th-century Edo. Her father, Katushika Hokusai (1760-1849) was the most famous artist in Japan (just about everyone can recall his great tsunami wave), and his wood-block prints were collector's items in Japan and abroad. Frank Lloyd Wright called them 'marvels' and the French impressionists borrowed heavily from his graphical techniques of representation. Through Hokusai the term 'manga' became popular.
O-Ei is a historic figure who was an artist in her own right. It is documented that she worked in her father's atelier and shared his living quarters for much of her life. What is unknown is the extent of her exact contribution to Hokusai's recognized work was; there is speculation that this may have been considerable, especially in the later years of his life. For financial reasons all of the work that emerged from the atelier was produced in his name.
The film uses graphic techniques in the Hokusai look merged with modern animation design More than 350 artists worked on this film for three years, and many of the scenes were created in traditional hand-painted animation.
At the center we see a refreshingly stubborn and single-minded female character. O-Ei, like her father, is uninterested in housework of any kind, comes and goes amid the clutter and chatter of her chaotic household. She is inspired by what she sees on the streets and by the geishas in the brothels of Edo, but also by the snow, the spring, the wind and the dragon ghosts that haunt the night. Her attempts to flirt with a fellow artist are clumsy and fall flat, as she has no communication skills whatsoever.
And so we progress through the year, and on again through O-Ei's life. The scenes with her blind sister are beautiful and touching, and the sheer beauty of the film composition makes it absolutely inspiring from an artistic point of view. There is a price to pay for this, though, in the emotional clumsiness of the main characters and their abrupt and unmotivated development. For this reason I gave the film four stars instead of the five it deserves for its mesmerizing visual presentation. (Ann Gebauer-Thompson)