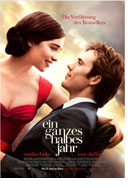 Ein ganzes halbes Jahr (Me Before You)
U.K. 2016
Opening 23 Jun 2016
Directed by: Thea Sharrock
Writing credits: Jojo Moyes
Principal actors: Emilia Clarke, Sam Claflin, Janet McTeer, Vanessa Kirby, Pablo Raybould
In her feature film directorial debut, Thea Sharrock delivers a love story that is believable, funny, sad, and memorable. This is no small feat given that the JoJo Moyes' novel that the movie is based on felt anything but believable to me. Moyes adapted her novel herself, crafting a lean screenplay that focuses the story exclusively on the relationship between Lou Clark (Emilia Clarke, Game of Thrones TV series) and Will Traynor (Sam Claflin, The Hunger Games films).
Lou is a beautiful 26-year old who lives with her parents in a small English town. She's outgoing and upbeat, but out-of-step with her small town surroundings, which we're meant to understand through her outlandish outfits. Lou seems content with her life and has no apparent interest in changing anything. But life often changes things for us, as Lou learns when she becomes a "carer" for Will, a paraplegic man in his 30s. In contrast to Lou's working class background, Will comes from privilege – his family embodies upper-crusty British entitlement – and until two years earlier he was enjoying a successful, adventurous life in London. An accident changed it all in an instant, and Will is now dependent upon others for everything. Despite (or perhaps because of) the obvious differences in their backgrounds and dispositions they fall in love. (Lou makes it clear at one point that if it hadn't been for the change in his circumstances Will wouldn't have noticed her, one of the "invisibles" serving him drinks at a party.)
The movie's strength lies in the chemistry between Lou and Will. Lou jokes and bumbles around adorably, melting Will's bitter condescension with her charm and naiveté. The pair establishes a witty, chiding banter and, ultimately, a deep connection. Despite Clarke relying too much on her eyebrows to convey emotion and Claflin channeling Hugh Grant's puppy dog expressions (understandable given that he can only act from the neck up), the attraction is convincing in its sweet and sour mixture.
The film's ending is the same as the novel's, but because the film is so much more narrowly focused it dispels with much of the moralizing around the decisions the pair makes. I know that some viewers will find elements of the ending incredibly problematic or troubling, but it felt true to me and an honest reflection of the suffering that underlies the bubbly façade of the film. (Diana Schnelle)