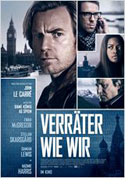 Verräter wie wir (Our Kind of Traitor)
U.K./France 2016
Opening 7 Jul 2016
Directed by: Susanna White
Writing credits: Hossein Amini, John le Carré
Principal actors: Ewan McGregor, Stellan Skarsgård, Damian Lewis, Naomie Harris, Mark Stanley
Perry (Ewan McGregor) and Gail (Naomie Harris) are in Marrakesh for a weekend getaway. When their romantic dinner is interrupted by a call from Gail's office, Perry is left to find his own amusement. Unfortunately, for Perry, he is soon befriended by Dima (Stellan Skarsgard) a hard drinking, obnoxious Russian who happens to be at the next table with some of his fellow countrymen. In no time Perry and his new friend take the party to another level and join a much larger group of Russians who are indulging in more than just booze. Perry soon realises he is out of his depth with murderers, rapists and drug dealers.
Intrigued by his new friend, Perry is drawn further into Dima's social circle and finds himself confronted with a world of espionage, the Russian mafia and death. Once Dima confesses his role in the Russian mafia and desire to hand over information to MI6, Perry is faced with a moral dilemma.
Perry decides the right thing to do is hand over the information to MI6. However, what was supposed to be a simple handover is out of the question when Perry and Gail are confronted with MI6 agent Hector (Damien Lewis). It is soon clear Hector has his own motivation and will do whatever it takes to get what he wants at the expense of his colleagues, Perry, Gail and Dima. The simple handover quickly becomes a dangerous mission that neither could have anticipated.
As Perry and Gail become more entangled in a web of lies, dirty politics, undercover spy work and murder, they find better versions of themselves and each other.
Based on the novel of the same name by John le Carre, this spy thriller has all the right elements to keep fans happy. Ewan McGregor provides a solid performance as Perry a college lecturer; however, it is Stellan Skargard that delivers the movie. (Christine Riney)