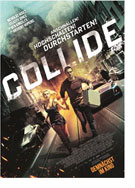 Opening 4 Aug 2016
Directed by: Eran Creevy
Writing credits: Eran Creevy, F. Scott Frazier
Principal actors: Felicity Jones, Nicholas Hoult, Anthony Hopkins, Ben Kingsley, Nadia Hilker
Take two young British actors (Hoult, Jones) and two elderly British actors (Hopkins, Kingsley) and mix them up with many talented German actors in supporting roles. Finance them with good German money and film in and around Cologne, Germany, and what do you have: nothing less than an action-filled gangster film about a young man with a caring heart, but little good sense.
In a nutshell: Collide opens with 30 seconds of a terrible car accident on the German Autobahn (highway) and then flashes back to the events which lead up to this event, including lots of golf balls filled with cocaine. Casey (Hoult) ends up with a car full of illegal 500-euro banknotes to finance the kidney operation of his girlfriend Juliette (Jones).
British director Creevy has made a film which is worth seeing simply because of the fast action on the roads. The plot is secondary, and is not always clear as it leads into dead ends with no obvious importance to the storyline. The ever-present music (including 12 pop songs) furthers the action. Ben Kingsley plays as if he is determined to have fun, even if it's all nonsense. The Autobahn is a well-chosen site for shoot-outs, where the gunmen miss every time.
This may be your last opportunity to see a 500-euro banknote since the German government plans to withdraw them from circulation. The reasoning is that large banknotes make it easier for gangsters to hide and exchange cash, a fact which Collide confirms.
Nicholas Hoult is definitely worth our attention, not only because of his fast career beginning with About a Boy at the young age of 11 and appearances in several X-Men and Mad Max films, but especially for his intensive deep blue eyes. Hats off to the 21 stunt drivers who realize the action. (Becky Tan)