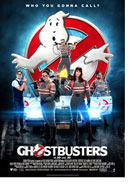 Opening 4 Aug 2016
Directed by: Paul Feig
Writing credits: Katie Dippold, Paul Feig, Ivan Reitman, Dan Aykroyd, Harold Ramis
Principal actors: Melissa McCarthy, Kristen Wiig, Kate McKinnon, Leslie Jones, Chris Hemsworth
New York City is again being invaded by ghosts. An all-girl ghostbusters, i.e., three brainiacs and "the one with the car" (Ecto-1), plus a male secretary who can never find the phone, fight a double battle: the prejudice against the existence of ghosts, then the actual ghost busting.
Ghosts are bigger and badder thanks to the evolution of computer-generated effects since the 1984 film (directed by Ivan Reitman and written by Dan Ackroyd and Harold Ramis), to which this is a heavy nod with the return of favorites like the Marshmallowman and Slimer. Kudos also to technical expertise from actual MIT particle physicists who provide great authenticity to the props.
But the film is constant fun. Reunited paranormal researchers Erin (Kristen Wiig) and Abby (Melissa McCarthy), wacky nuclear engineer Jillian (Kate McKinnon) and subway clerk Patty (Leslie Jones) perform seamlessly as an ensemble of friends, all having backgrounds with SNL. Many of the original Ghostbusters team are on board as producers: director Ivan Reitmann, Dan Akyroyd, who also has brief cameo as a taxi driver, as does Bill Murray as an eccentric chairman of the Council for Logic and Data.
While not a fan of the new (?) hip hop (?) version of the Ghostbusters theme song (luckily the original is intertwined throughout the film), I am a great fan of the 2016 Democratic Convention's new take on the lyrics: Who you gonna call ? - TrumpBUSTERS!! (Nancy Tilitz)